Walnut cabinets are in -- need help with pull placement, please
Our walnut cabinets are in! The White Macaubas counters should be installed within 2 weeks. Then the plumber will hook up the sinks and DW and we'll have a functional kitchen again. The cabinet guys will come back after that to install the DW and wine fridge panels and take care of a few other little details, including installing my pulls, so I need to get pulls ordered ASAP.
Pictures are below - please excuse the dust and dangling wires. I love the tall glass pantry doors. We will apply a Solyx film to the glass to obscure the contents. If I didn't need room to store cereal and soup, I would leave the glass clear and just display china and other decorative items there, lol.
I have decided to go with the Top Knobs Princetonian pulls. They are available in the following sizes: 4-9/16", 5-13/16, 7-1/8, 9-5/8, 12-1/8, 15-13/16, 19-1/16, 27-1/2, 31-1/16, and 37-7/8." I was able to order a few of the 27.5" and 5-13/16" pulls quickly from Amazon. The 27.5" size looks good on the 36" drawers, but too long on the 30" drawers. I'm going to use the 19" handles on the 30" drawers, the 9-5/8" on the 18" drawers and the 7-1/8" on the 16" drawers, which leaves about 4-5" exposed at the ends of each drawer. I will probably use a 15-13/16" pull on the 24" dishwasher panel; not sure what to do about the wine fridge. I am still undecided on the size and orientation to use on the various doors.
For the drawers, I originally planned to put them 2.5" from the top edge of each drawer (which would be centered on the upper 5" high drawers), but now I am thinking that might be too far from the edge, especially if I also use horizontal pulls on the doors, since I want to be consistent with spacing. Maybe 1" or 1.25" or 1.5" from the edge would be better.
I am having a hard time deciding whether to use horizontal or vertical pulls on the doors. The north side of the island is especially tricky, since there is a false drawer front over an 18" door, then a 36" drawer over two 18" doors. I wish I had split that top drawer into two 18" drawers so I could just center the handles on both drawers and doors. If I use horizontal handles on the doors, do you think it looks better to center them on the panel, or place them next to the edge that opens? If I use vertical pulls, they will be in the 4-8" size range, as the vertical pulls that run most of the height of the doors does not feel right to me here. I almost wonder if knobs might look better on the upper doors (keeping horizontal pulls on the lower doors to match the drawers).
There are 30" wide x 10" high lift-up panels over the fridge and freezer. I have seen long pulls used on those before, so I could use the 19" pulls to match the 30" drawers, but think something smaller might look better. I wish I could just use a hidden touch latch on those, but think I will need something to pull on to lift them.
For the pantry, I originally thought I would use the 38" handles to mimic the 44" handles on the fridge & freezer, but now that those doors are in they seem kind of "delicate" with the tall, slim glass panels and stiles. I am not sure whether to stick with the long pulls or go with a short (4-8") pull or knob.
I have to get this all figured out quickly, so I would really appreciate any input.
Back wall with range & refrigeration columns (2 pairs of 14" wide upper doors):
Pantry & oven wall (waiting for steam oven install):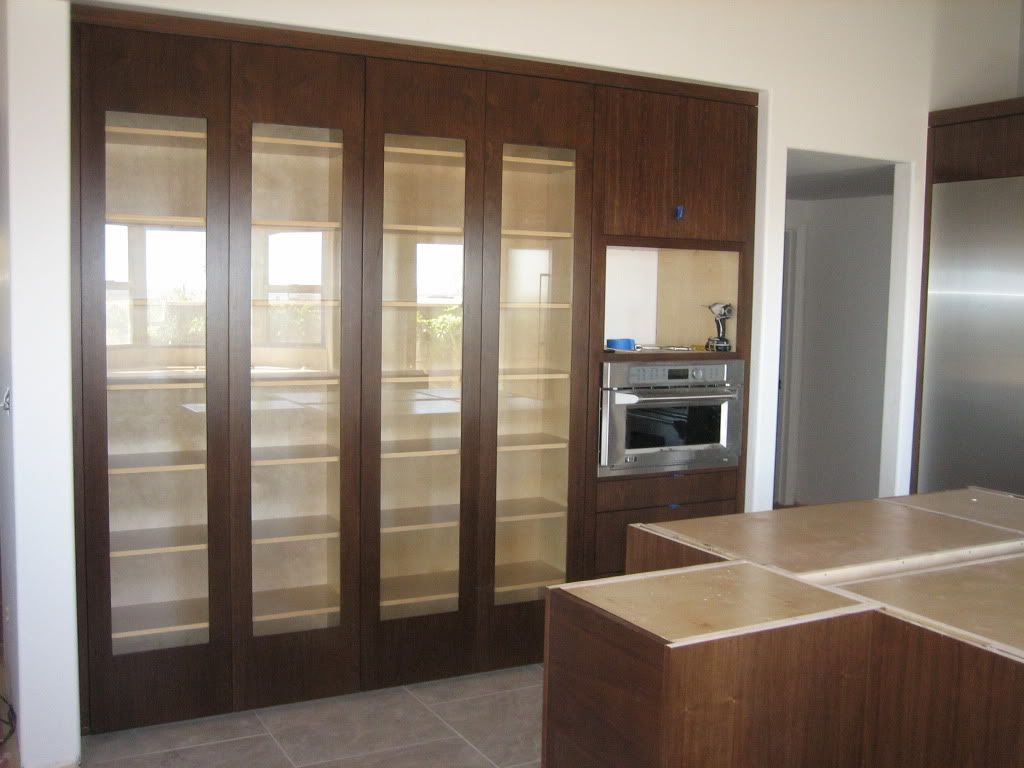 Sink run is hard to photograph due to sun coming in windows (2 18.5" wide upper doors):

North side of island (18" sink cabinet, then 36" top drawer over 36" double doors with pullouts):

Vertical pulls on doors:
Modern Kitchen design by Minneapolis Interior Designer Indicia Interior Design
Modern Kitchen design by Minneapolis Interior Designer Indicia Interior Design
Horizontal pulls on doors centered on panels:
Contemporary Kitchen design by Miami General Contractor Complete Home Improvement Group Inc.
Horizontal pulls on doors with pull toward edge that opens:
Modern Kitchen design by San Francisco General Contractor Bill Fry Construction - Wm. H. Fry Const. Co.
Modern Family Room design by San Francisco General Contractor Bill Fry Construction - Wm. H. Fry Const. Co.
Minimal pull tabs on uppers:
Contemporary Kitchen design by Dallas Architect Domiteaux + Baggett Architects, PLLC
WWYD?