help me tackle the office desk area... where to start?
Making so much progress elsewhere in the house, I'm getting close to tackling my desk area. The contrast between space/order elsewhere and this busy mess is becoming increasingly apparent.
Here is what it looks like now, and this is a relatively good day! There is often a six inch stack or two of files in play on the desk. At least there is some working space on the desk for what I have to write today: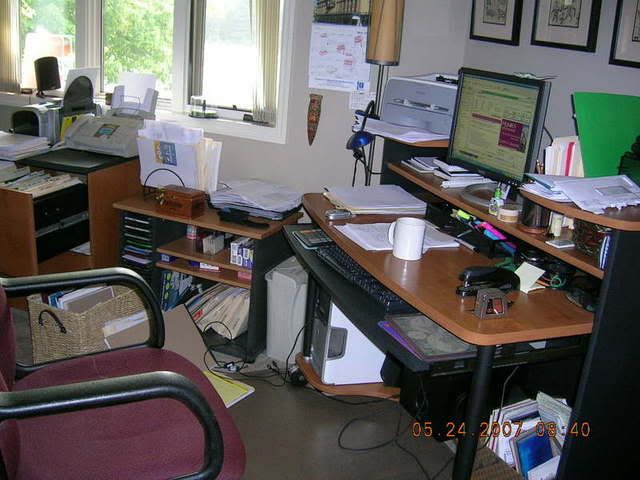 I think I'd like it more serene. Less visual clutter. But I'm wary of too much concealed storage, or change for that matter, as it neeeds to keep functioning.
I work from home - need the computer, printers, fax and file system. Double door entrance is recessed next to desk - thankfully this isn't the sight line from the hall! Wall opposite windows is all bookcases (culled, so OK and pleasant. Room there for some of this stuff.) Fourth wall has closet with tall file cabinets - closed cases I need to keep for years.
Where would you start? I'm thinking to shift less needed stuff from the short shelved piece to the bookcases, making room to get stuff off the desk and out of my face - but still reachable to my left.
I can buy some 'infrastructure', but loath wasting money on the unworkable. Am I ready for boxes and a label maker?Any office organizing thingies to corral files and little items you have found to be very attractive/accessable/functional?? I'm not liking those black file coils much. Desk drawers would have helped a lot in this setup. Too late now...
PS, Tally Sue, I put the tape measure back in the tool drawer already! ;)