Would love some "Kitchen in a narrow townhouse" layout feedback!
LiliReno
February 15, 2013
Hi Everyone,
We are gut renovating a townhouse and need to make some major decisions on kitchen layout now. I've posted a sketch of one of my layouts.
My must-haves: a large clean-up sink, at least 28" wide and a separate prep sink, or a super-long "galley sink" or Rachiele "signature II"-type sink;
an induction cooktop or range with a good vent hood.
Our townhouse is narrow, only 15' wall-to-wall. To go from entryway to living room (at back of house), you have to walk past the kitchen, so it is very public. You will also see the island straight ahead when you open in the front door.
I'm concerned that this layout cramps the clean-up sink and range areas. It also makes us put more small appliances on the island, which might make it cluttered. The problem is, I loathe to put the clean up sink on the island because, to be honest, we are not that neat with our dishes, and I don't see that changing. I also hesitate to put the range on the island, because a hood would partially block our view to the back yard. We put in large, expensive windows in our living room and would prefer to enjoy the full view. On the other hand, a hood would only obstruct the view from the front of the house, not from the dining or living room area.
My other ideas have a long "galley sink" or Rachiele signature II type sink against the wall. It would seem strange to me to have this in the island, so I think it would go against the wall, and the range would be on the island. I don't have safety concerns about having the range on the island, just the hood issue.
Any comments? Suggestions? Thank you so much in advance.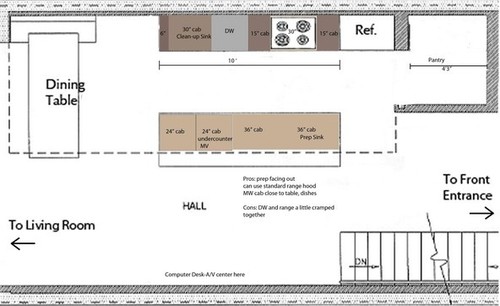 This post was edited by LiliReno on Fri, Feb 15, 13 at 10:45