Repainting / Restoring Old windows Questions with Pictures
Hi Everyone.
We have a 1923 brick house. We have been in the home for about 6 years and the inside is up to date for the most part. The exterior is now a priority. The windows are the original windows to the house with the exception of two additions which were done in the 90s. The newer windows are good and will only need to be scraped and painted.
The original windows need a lot of work. They were modernized at some point so they do not have the pulley and weight system, which saddens us. Instead they have an aluminum track on the side of the sash. They work ok. I am going to be re-glazing the windows where necessary, with window putty, not new window glass. I am also stripping them down to the wood and starting from there. We are also removing the triple track storm windows.
I have some concerns that I would like some advice on.
Here is a picture of the area where the window frame meets the brick.
Previously someone used a boat load of caulk!! I'm ripping it all out, however, lots wants to stay, do any of you know any good tricks? Should I use a heat gun?
Once the caulk is removed there are some spots where there is a large gap.
How should I treat this? Should I nail up a new piece of molding that closes the gap, yet makes the window less symmetrical, or should I spray foam the gap, trim the excess, and then caulk over that?
The two above pictures are below the sill of the window. It seems there was concrete there at one point. In some cases there is nothing but a space, was caulked, or there is loose morter that I could just pull out very easily. Should I re-morter this space? or spray foam and caulk. Or is there a better solution to the large gaps around the windows?
On the interior of the house we used PPG or porter paint and are very happy with them. We are considering using their Permanizer acrylic exterior paint and the primer they recommend. Have any of you used this and what results have you had? Also need a recommendation on exterior caulk.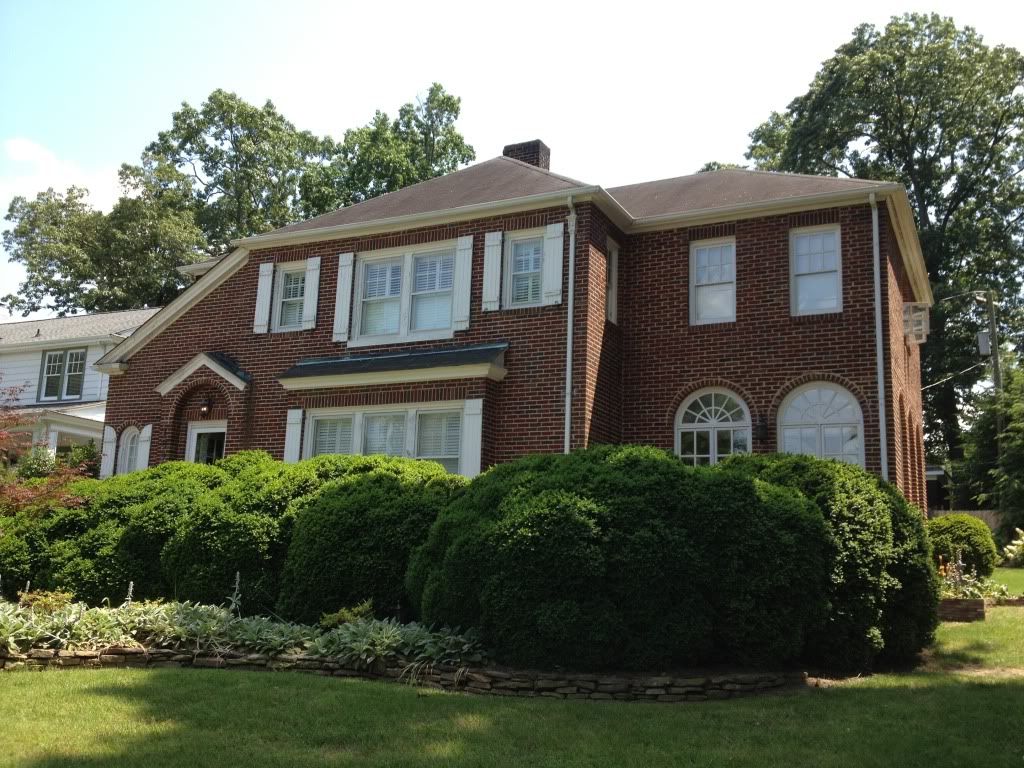 here's the house. The section to the right with the arch top windows was the primary addition.
Also, the house was originally stucco and was bricked over at some point as well.....
Thanks for all your help, I appreciate it! I really want to do this the correct way!