Help Choosing FR Barstools
Although the main part of my FR remodel is done, I'm stuck with the old bar and barstools in the corner. Please help me pick a barstool. Five candidates are given below.
To be honest, it is not a high priority item. I took the old stools and painted and recovered them. I'm just not happy with the ladderback shape and the fabric did not go well at all. Here's a picture.
I have a new console on order (to replace the accessory-graveyard of a bookcase) and the art search and decluttering will continue (at a slow pace). A mirror is also hung behind the bar.
Here's a picture of the rest of the room:

Here are the candidates -- you all are so helpful in applying another set of eyes to the choices. Feel free to suggest alternatives.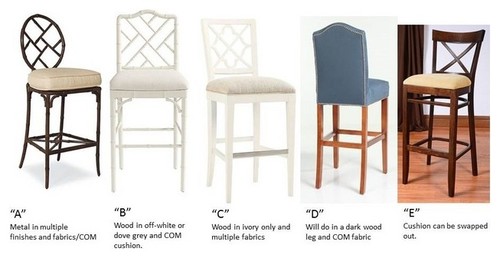 Here is a link that might be useful: Link to before/after thread, more pictures
This post was edited by gooster on Sun, Jan 5, 14 at 23:18