sample cabinet doors-need advice pls
CallMeJane
February 13, 2013
Hello all,
New construction here. My kitchen has been ever evolving, as Im sure most are. I went from white cab, to cream, to now grey stained. My builder uses a kitchen place that happens to use Omega and they have a 'porch swing' stained cab. I just got my cab samples and while looking at them in various lighting, am thinking they arent grey enough.
My kitchen was thought to have the grey stained cabinets on the perimeter (which is L shaped), then have a walnut type stained wood for the middle prep island, then repeat the grey on the curved second eating/hangout island.
I do love the richness of the brown.
Omega does have a smoky hills stain that I thought was too dark in their show room, but Im thinking I may have to bring a door home.
Please tell me if the grey cabs look grey enough, or if they look a more cream or lighter color than grey.
The picture on the counter is in my kitchen, with recessed lighting directly on it.
The other 2 within the current cabinet show how recessed lighting would look on the cabinets IRL.
The last one is the cabs driving home with me in natural light.
THANKS!!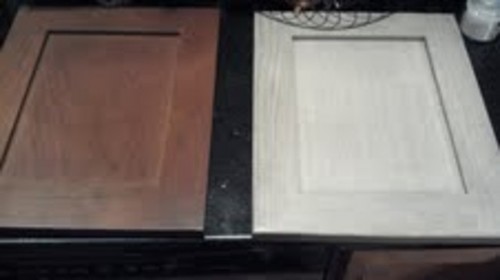 This post was edited by CallMeJane on Wed, Feb 13, 13 at 10:12