How to paint tall steep front entry stairway
concretenprimroses
May 1, 2009
Has anyone done two tone walls on their steep old stairways? My sil Mrs Martha Stewart Clean and family is visiting in July and I'm using this as motivation to spiff up!
My details: My 1920s house used to be 2 apartments, one up and one down. The front door opens into a small box of a room with a steep stair straight ahead and a door to the right into the down stairs. Only window is in the front door.
A couple months ago I painted the little entry room a soft light springy green (SW baize green) and I love it! It brightens up the entry. Trim and doors are now (or will be soon) SW Aria Ivory. But the steep and very tall enclosed stairway is still white, painted 25 yrs ago and I just can't clean it anymore! The floor of the entry is yellowy maple with orange tones and the steps are a similar color as is the coat rack and shelf on the left wall of the entry and the railing running upt he left side of the stairs. I painted the risers yesterday a darker color on the same paint chip as the baize green (SW leapfrog), and it looks nice. But now what to do with the walls. The higher reaches still look good, its just where people have put their hands has permanent grime.
I thought about painting the baize green to a certain height up the stairs and leaving the white up high, but I am thinking that would be too much. What do people think about painting a tan color for the first 6 feet in height or pale yellow (dh suggestion?) I just don't think I can paint the higher reaches myself and have a lot of projects to do this spring!
Thanks for any help or suggestions.
kathy
Stair pic taken standing on front porch. The entryon the left side is blocked by the open door int this photo, but its only slightly wider than what you can see on the right.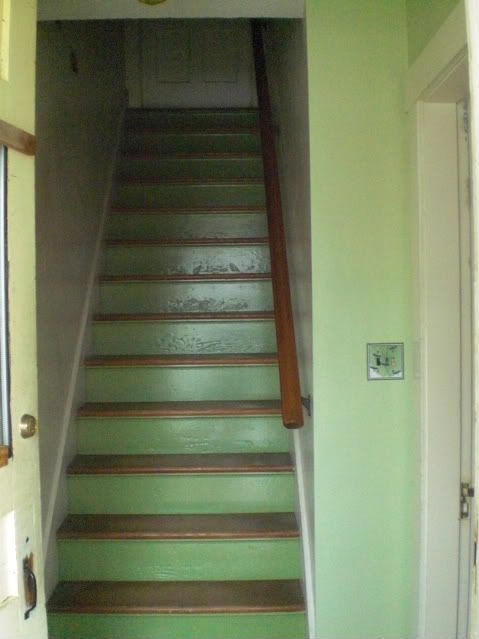 Attempt to show height by taking pic from upstairs. Entry door at the bottom of the stairs is open for light blocking that side of the entry (its a bit bigger than it looks)