What to do with windows with a view?? Please help:)
janealexa
January 28, 2012
Hello! Please help me figure out what to do with these windows. Here is a pic of our space. It is not the best picture but hopefully you can get the idea. The walls are SW Kilim Beige, the trim/ceiling are SW Alabaster, and the floors are white oak. The window sills are wood with a dark walnut stain which matches the doors and cabinets in the house. There is 1 more window to the left and 1 more window to the right. There is also another large window on the other side of the room.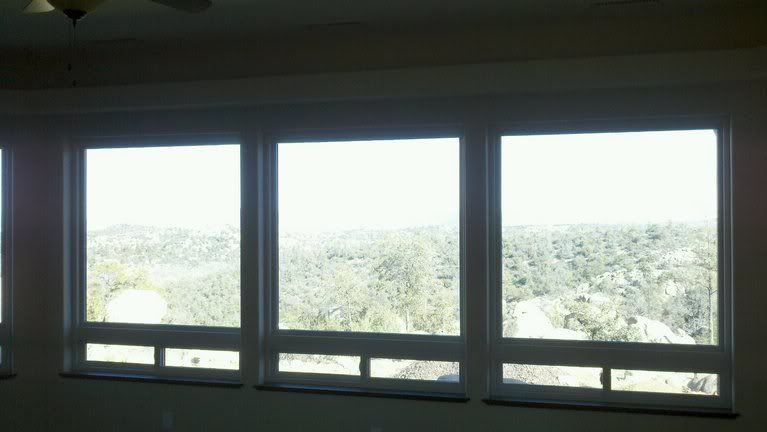 I looked into Levolor woven shades. I called Levolor, gave them my dimensions and asked how much the shades would stack at the top of the window with the shades pulled all the way up. The full stack at the top would be 12 inches. I can only do an outside mount 4 inches above the window because of the soffit lighting. So 8 inches would obstruct the top of the window. Woven shades are now out.
I looked around Houzz and did a search on windows with views. Most pics didn't have any window coverings. I think I am going to end up with cordless cellulars since when they are all the way up there is just a slight subtle stack at the top (inside mount). They will mostly be all the way up anyway. I just would put some down during strong sun and at night. Just kills me to pay so much for cellulars because they are so boring :(
Do you have any other suggestions??? Thanks in advance!