Lakeview Kitchen Reveal
dianamc75
February 9, 2014
I wanted to wait until all elements are complete, but that will be 10 weeks yet (for my kitchen table set and proper island stools to arrive). You can also see that the yard is still a construction zone, but that will be like that for another year at least. I have some areas that call for display, particularly around the coffee/bar zone, but I have nothing yet. I wanted to use the art for inspiration.
So here is where we are now. I am very happy! I wanted it to feel warm, bright (because the lake casts so much grey), casual but nice, and I wanted it to lean to contemporary but not too contemporary.
Overall view from main kitchen entry: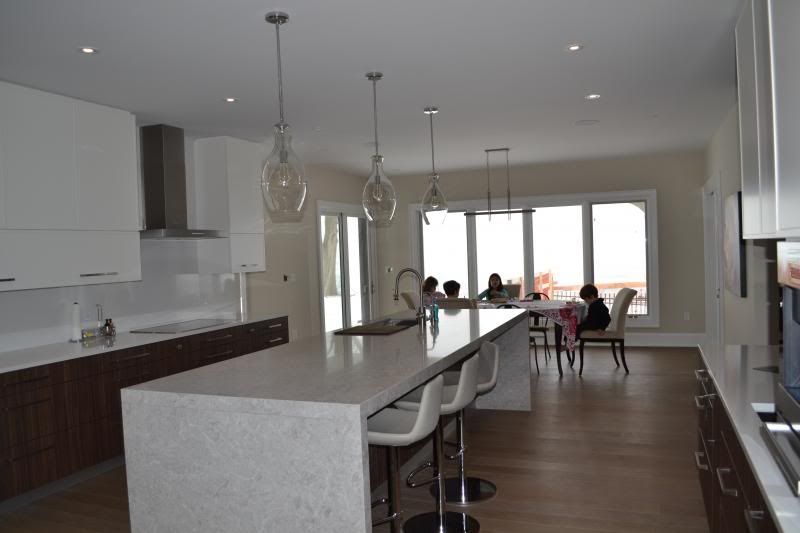 I am NOT a photographer, but at least you can see our view in this picture. We are in Niagara, Ontario, and this is Lake Ontario:
Standing at the far window looking back at the kitchen:
Other corner:
As you walk in, to your right is the coffee/bar zone. There is a built in coffee maker, steam oven and ice maker. I am frustrated with the ice maker, because I thought I bought an integrated appliance, but it is only "panel front" so it is slightly off. Debating what, if anything, to do there:
Sorry this image is no longer available.
Island run. All my lower cabinets in the kitchen are drawers. No doors! In here there is dishwasher and built in garbage/recycling caddy.
Sorry this image is no longer available.
Oven, storage and fridge:
Sorry this image is no longer available.
Cooktop (induction, which I LOVE)
So far I am loving the function of this kitchen, but I have only been in for one week and haven�t used it too much yet. Family gathering today, so it will get its first test!