Granite Island Overhang - Non-Standard Shape
Kelemvor
February 25, 2014
So, here's a picture of what our island looks like. Cabinets are from Ikea, the red border is the granite countertop, the green are the measurements.
Sketch with Dimensions:
https://dl.dropboxusercontent.com/u/1787993/island.jpg
Actual Island:
https://dl.dropboxusercontent.com/u/1787993/island2.jpg
Our granite place told us that they would be concerned with anyone sitting on or leaning on the very end of the counter that it could break. No one will be sitting on the counter but we have kids (8 & 5) and if they sit at the counter and need to reach for something, they would be pushing down on the counter to stretch to get what they need.
I really do NOT want to have to put an actual leg on the top right corner in the picture. I'm trying to figure out what other options we have that will be unobtrusive since we plan to use it as an eating island for breakfast and things like that.
Any options anyone has would be great!
I can only see how to upload one picture per thread so I'll upload the 2nd one in a reply.
UPDATE:
Just heard back from the Granite place and they said:
Alaska White has veining. Veining can cause granite to be more fragile. For the two corner areas we are recommending post supports.
So, how to posts work? Do they get attached to the stone and just sit on the floor? Do they generally get attached to the floor and to the granite? We're going to have a floating floor all around the island so can the supports sit on that or do we need to rig up a way of going through the floor in a specific section and into the sub floor? Argh. Why didn't anyone mention this until the very end?!? :(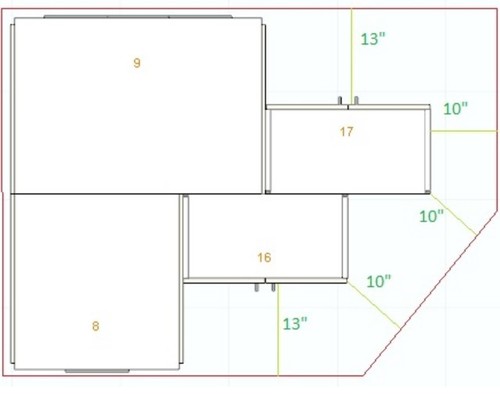 This post was edited by Kelemvor on Tue, Feb 25, 14 at 13:43