Help solve our dining room problem. Please!
Oh the madness! We knew we were moving to a smaller home, but we did NOT realize we'd be crawling over each other's laps to get to our seats around the table. Wow! We need some solutions here!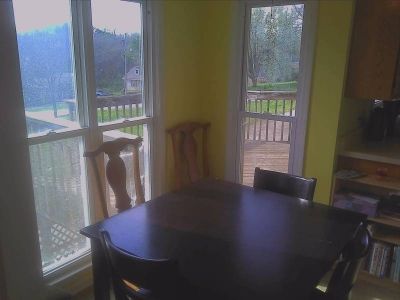 This room is 8' wide and the distance from the back wall to the door leading down to the basement is 4'5" If a table & chairs come out about 6.5' it's fine because there's still room to flow through the galley kitchen to that basement door, but really we can't push much past that. We'd build in a bunch of benches, but the problem is those big long windows! We LOVE the windows, but they are so impractical for solving our space problem. What would you do with this space? No, we can't move walls because then we'd be basically be adding another room to the house as this is an addition already. Sure do wish the origional owners would've added just two or three more feet to this addition. It would've made all the difference for us!
*Edited. Trying to figure out how to post those pictures! Hope it works!
This post was edited by IBsmilin on Sun, Apr 7, 13 at 17:53