Laundry Under Kitchen Counter: Cabinet Doors?
dyrmaker83
February 22, 2013
Hi everyone,
This site has been invaluable in planning our kitchen remodel, which includes replacing existing layout on the left side of our rowhouse galley, and adding cabinets and countertop to the right side where the refrigerator and stacked "laundry center" are now.
We plan to replace the laundry center with compact Bosch washer and dryer units and place them under 30" deep countertop, with cabinets on either side. We'd like to cover them with 24" wide cabinet doors that preferably can slide in or either side of the units - or possibly bi-fold doors. Does anyone have any tips on this, particularly with needed clearances on each side of the units? We're going with full overlay slab cabinet doors so the tolerances are tighter if we're to keep a clean look.
We're likely going with Kraftmaid semi-custom cabinets, hopefully to which we can install the proper hardware. I know there was a thread on this very subject a couple years old on this very subject, so I'm hoping others have done this since and can give me advice on any design considerations to be wary of. If this is too difficult then we'll have to just keep them open, although our concern is leaving the front washer door open to dry with a cat in the house.
I've also attached a preliminary design image that we created with IKEA's kitchen planner to give you an idea.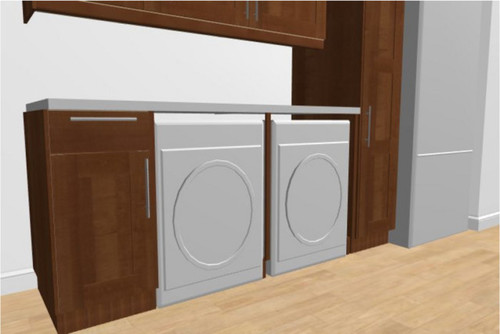 Here is a link that might be useful: Anyone done this? Cabinet doors in front of washer and dryer?