Please help with appliance locations/layout
phillyfeet
February 24, 2014
We are finally getting closer to a start date for our addition/ renovation and i am having the worst time trying to decide on a layout. The pressure is on since we recently found out that we are expecting a baby this summer. So not only is there a definite time crunch, but my pregnancy brain is just not too sharp! I am posting the plan that our cabinet maker sent me, but honestly, i am not happy with it. I had another design from someone else that placed the fridge on the same run as the range on the long wall ( in line with the aisle between peninsula and island) and the wall oven, micro, pantry and refrig drawers on the wall where this plan shows the counter depth fridge, micro and pantry. My husband likes the location of the fridge in this plan better because he thinks there would be a problem getting past the open doors of the fridge even with the aisle opposite, but i'm not convinced. Here are my concerns:
1. location of wall ovens opposite peninsula- is there enough clearance to open oven and stand in front of it?
2. glassware closer to fridge - right now, the design has it in a weird spot at the end of the range run, no where near dishwasher, fridge, dining area
3. pull outs next to range - really don't think i want these cause i am so used to having my spices in upper cabinets and thinking i can fit oil and cutting boards under prep sink
4. no designated place for fridge drawers for extra drinks/ produce in this design- where could it go if i convince my husband it will be necessary for our soon to be family of 5. so worried that produce won't fit in those small counter depth fridge bins and we love our fruits and veggies
my architect also planned the aisle wider than what is shown between sink and island - there will be no wall under the overhang between posts so i can gain about 3-4 inches setting the cabinets back, but will lose some space in end cabinets due to posts.
As a point of reference, behind the half wall (where clean up sink is) will be addition of family room, the basement door is next to microwave, door to hallway leading to bedrooms is by basement door, area to left of peninsula will be wall with entrance from mudroom and a pantry closet. The dining room will be to the left of the family room.
Thank you so much for any help you can offer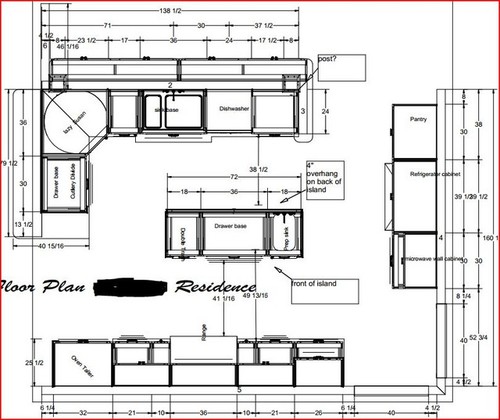 This post was edited by phillyfeet on Mon, Feb 24, 14 at 15:59