Pantry Design Help / Feedback
oldbat2be
February 24, 2013
Hi all,
I can't make up my mind on the fridge area and DH reminds me that there are lots of other projects to be worked on, so I've moved on to the pantry.
This room is to the left of the ovens, and we have a space for dry good storage approximately 36" deep x 53 1/2" wide. There's a wall to the left of this which is not structural and which would be removed, making total available width ~58 - 61 1/2" wide. This also involves moving some wiring but DH says that's ok.
I really like the Lee Valley Pantry Hardware (linked) which fits within a 6' tall x 24" deep x 34" wide cabinet.
To the right of the cabinet, I could have a 24" stack with warming drawer (if that works next to dry storage), deep (30-34") lower drawer(s) and possibly potato and onion storage (again, might not be the best idea next to the warming drawer). I'd love some tall storage above this (to store the OJ squeezer). I can also squeeze in a ~9" broom closet on the back side and an upper cabinet.
I'd love your help in making the most out of this space. What would you do for uppers on the right? Any lighted (lit?) glass cabinets on top? Omit toe kicks?
I figured with a warming drawer, I would need a countertop on which to temporarily place things.
Thanks in advance.
Current:

Lee Valley Pantry Hardware:
http://www.leevalley.com/us/hardware/page.aspx?p=48709&cat=3
Proposed: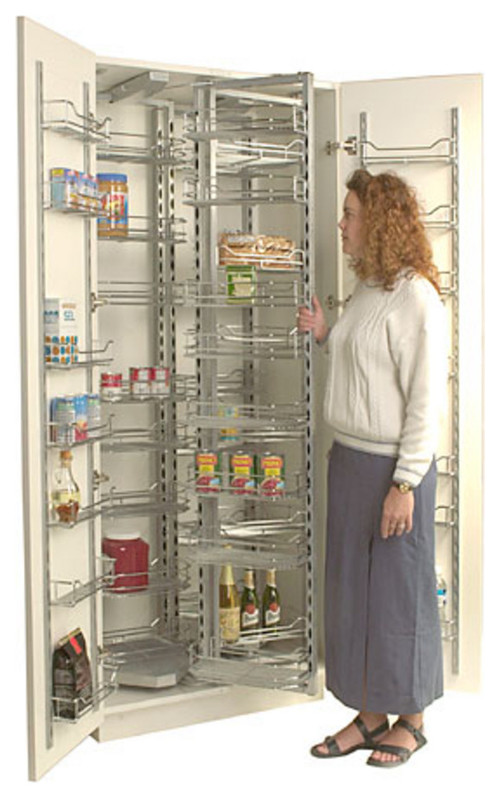 Here is a link that might be useful: Lee Valley Pantry Hardware
This post was edited by oldbat2be on Sun, Feb 24, 13 at 12:54