Opinions on cabinets and island colour
OK...So given the dark floors I think a cream glazed cabinet is the way to go here. The cabinets are going to the ceiling with crown molding.
But now my problem, should I do the island in the same or should I do the trendy dark island which will definitely date my house.
I have mixed feelings and here they are.
As you can see in my the photo (taken before we moved in - for the record we have stainless steel appliances), the existing cabinets are a cream and given the open space (the area behind me is open to a sunken livingroom and the is a nook the to left which is pretty much all window and a sliding door) I feel a dark island might break up cabinets because it almost looks like too much white to me.
I don't want to date the kitchen and I know this trend has been around a few years and is probably coming to an end, but I do kind of like the look and since the island is small, I don't think it would take much to replace it when the time comes.
We were planning to have fluted pilasters and corbels on the island and the extra details I think would look great in dark, plus the extra detail would make it stand out making it a focal point. The dark island I think would just add to this.
We are planning on painting the kitchen and nook Sico Maple Jelly as our chairs and dinnette set have orange hints in the wood. The counter top is granite which we are hoping to reuse. I believe is it Tropic Brown, which also has hints of orange. The backsplash I want a neutral white/cream brick style. We are keeping the floor as well. The layout is staying the same (unless someone can come up with a good opinion about that as well!)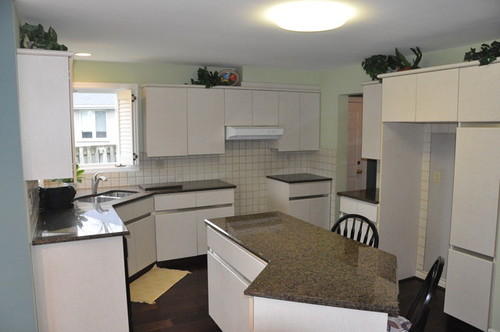 This post was edited by erinf83 on Mon, Feb 25, 13 at 8:25