The Full Monty...now the decisions begin
We got in a full day of demo yesterday on our new project.
-All plumbing removed
-Bathroom gutted
-All flooring removed (except kitchen-just partial)
We have a few decisions to make, and would appreciate some input.
#1: What to do with the LR/DR floor. Here's a photo of the "challenge spot."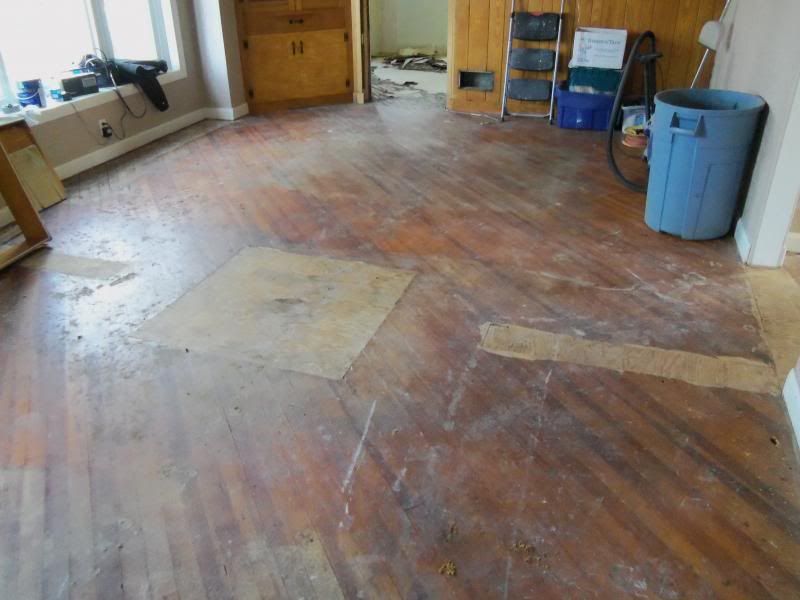 Most of the floor looks refinishable. It won't be pristine, but I am completely ok with a "character floor" in such an old house. There are 3 cutouts that have plywood instead of hardwood. What to do here?
#2: What do to with bedroom and hallway floors. Back bedroom has glue residue, front bedroom has glue-down carpet, hall has water damage plus a couple plywood cut-outs that I don't quite understand. Do we just cover it all up again or try to salvage?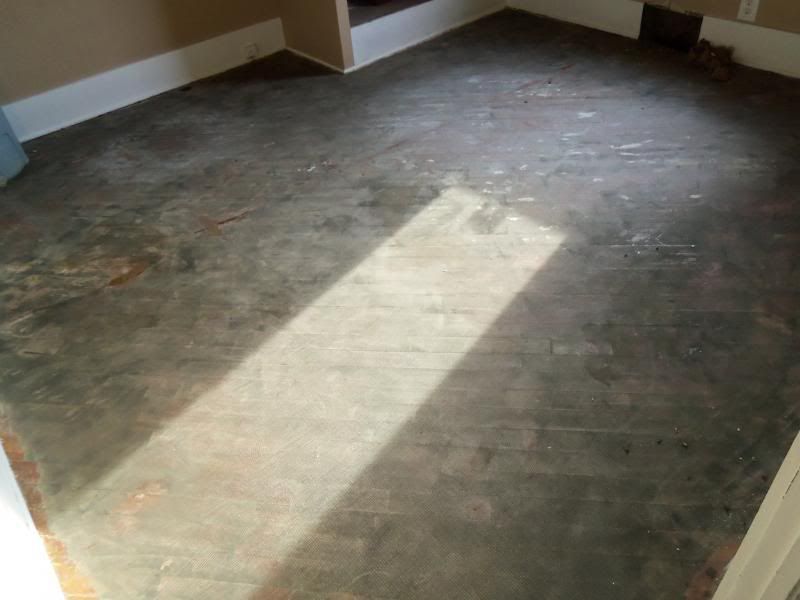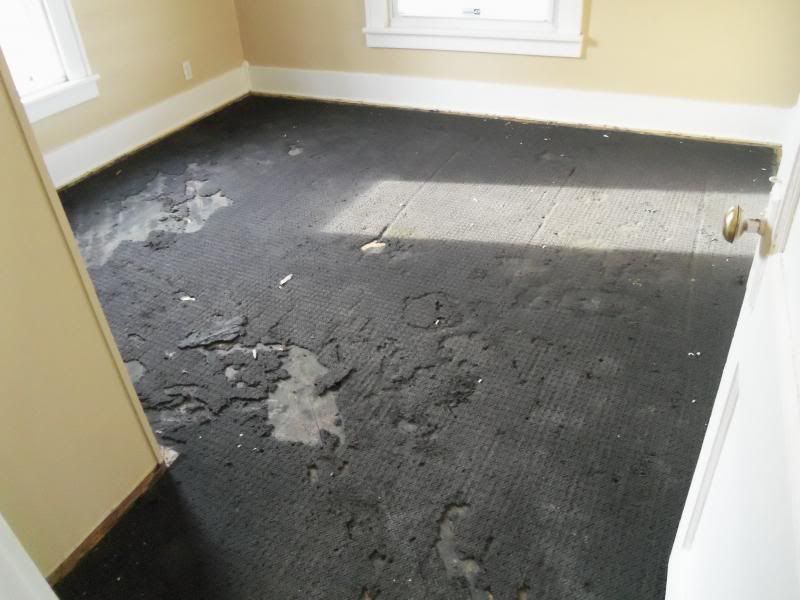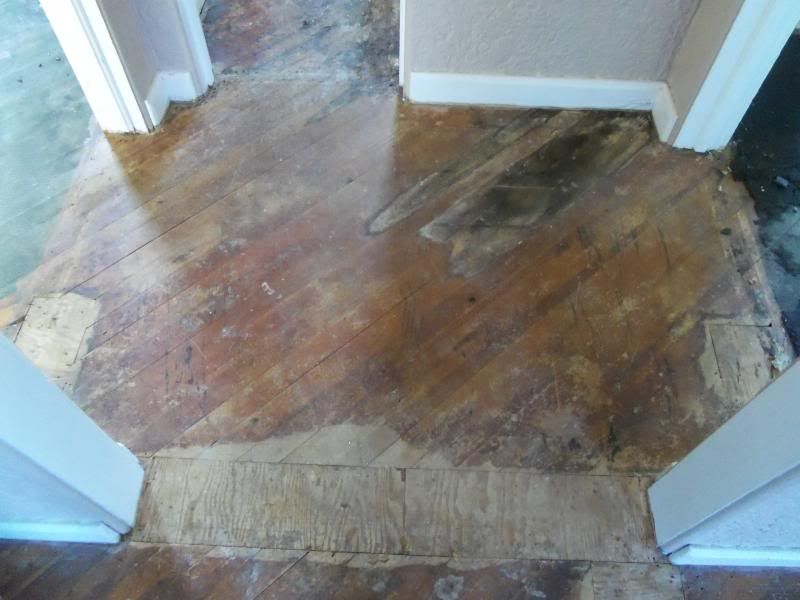 #3: What to do with kitchen floor. I got part of it scraped off, as it's 2 layers of pretty hardened vinyl. There's wood underneath, but I don't know how salvageable it'll be. Here's a preview of what it looks like. Any experience with whether I can make it pretty again?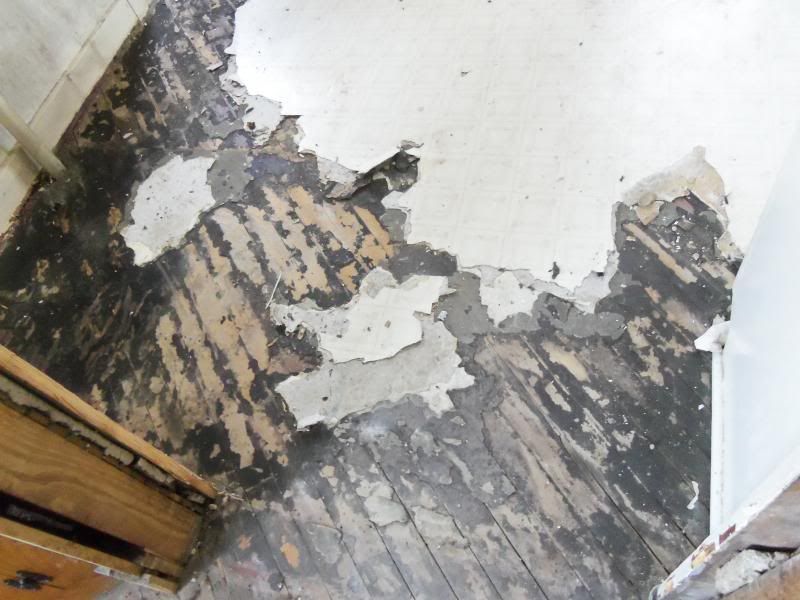 #4: What to do with DR paneling. I removed the door casing and found that this is no cheap 60's paneling. It's full 3/4" tongue-and-groove paneling, no plaster behind it, so I guess original. Here's a side view around the doorway:

Here's the wider view of the whole wall. I don't care for it.

#5: Should we remove back bath wall boards? There looks to be a bit of old insulation behind the boards. Any reason to keep this in place? We'll be putting in a (smaller) glass block window and tiling the tub surround.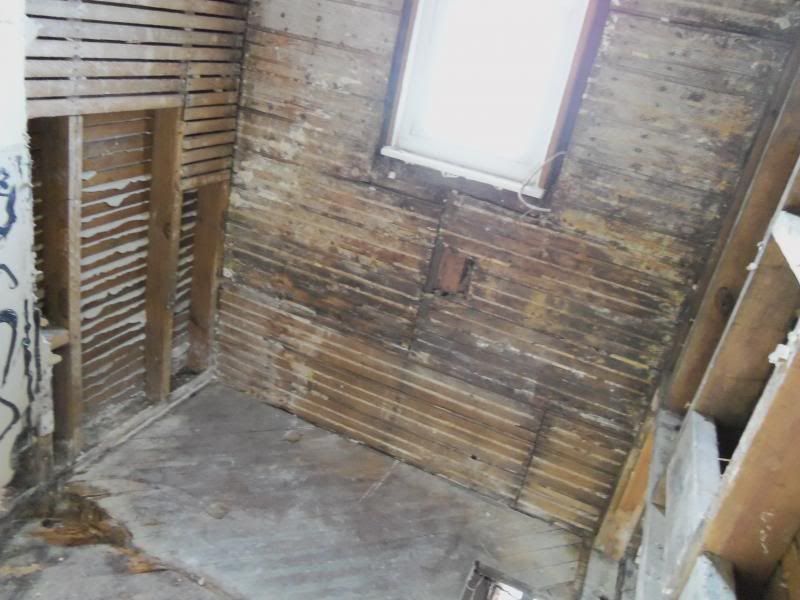 #6: Whether to rebuild/replace kitchen base cabinets
We beat the countertop off, which required pulling off 2 layers of laminate-covered luan on the back walls. The sink base is really just a front between the 2 drawer bases on either side (can remove), and the left side has this weird, semi-blind corner shelf thing.


I'm thinking of removing the corner construct and building a wider drawer base on the right piece that goes all the way to the chimney block. Then replacing the one on the left with an extension of the wall cabinet above, all the way to the floor.