Finally starting on our woodwork -- still a little stumped
I posted a while back and got some great responses about how to tackle restoring the downstairs woodwork in our 1905 home. I'm finally going to tackle this project! I'm still nervous and have a lot of questions that I thought I could run by all of you helpful and experienced GWers. I've included the link to my earlier post.
First off, I'm not even 100% sure what kind of wood I have. Our floors and the upstairs woodwork are heart pine. In the dining room, living room, and stairwell, I believe we have chestnut, but I haven't been able to confirm that. The grain looks a lot like oak, but the wood doesn't feel like oak -- it feels much lighter, less dense and a little pourus. From what I've read, the blight that killed off the American Chestnut trees was in 1905 or 1907, so the timing makes sense. Here are a couple of shots that show the grain:
The other day I tried to do a very light cleaning with a soft cloth and mineral spirits on a section of the dining room baseboard and I was encouraged. Not a whole lot of anything came off, and the mineral spirits didn't seem to mess with the existing color. I'm planning to continue cleaning with mineral spirits as soon as it's warm enough to open the windows for some ventilation. I just bought some low odor mineral spirits and synthetic steel wool at the hardware store. For areas where the previous owner sloshed paint on the trim, should I use paint thinner? Will that harm the color of the wood underneath?
I still have a lot of questions about how to proceed past that point once it's clean, and what kind of finish to put back on. To me, it's always looked like our wood has been stained dark with no additional shellac or varnish. There is no shine (although flash pictures sometimes make it look a little shiny), no alligatoring, and no sign of built-up finish in corners or places where two boards meet. I figured I could see some sign of previous finish in the winter when humidity is low and boards contract, but nothing.
Over the weekend, my husband and I carefully pulled off a couple of pieces of trim moulding by the pocket door so we could make some adjustments to the roller mechanisms. Underneath, you can see wood without stain so I'm pretty sure that stain or dye was applied at some point.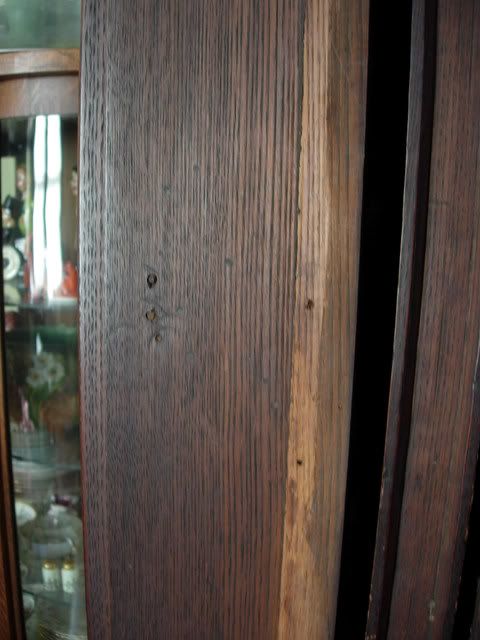 To throw another variable into the equation, we also need to be able to match some new wood to our existing woodwork. We are adding a wall and pocket door in the living room to create an entry foyer...I think I've even found a source for chestnut to use for the trim although I haven't seen a sample yet. If I want to try to replicate the stain color of our existing wood on new wood, should I use an aniline dye rather than stain?
Once I have the stain issue solved I still need to decide on a finish. A couple folks recommended shellac, which is still a possibility. I'm worried about the shine factor though. We do not want shine. What about satin spar varnish? I know we do not want poly, and based on Casey's earlier advice, I'm leaning against tung or boiled linseed oil. What if we just waxed it without any other underlying finish? I don't want to have to re-do all of this every year though. We have a LOT of wood in these rooms and that stairwell is gonna be a bugger.
Lots of questions, I know. Sorry.
Here is a link that might be useful: my previous post