The Forum Friends Support Sherry
Some may remember Sherry (sheshebop) lost her husband recently. Roger was a good, kind, generous man who put up with all of us women cheerfully, ate anything we'd cook and chauffeured us around when necessary.
With all the changes going on, several of the "old timers" decided Sherry could use a little company. Evil Jessica and Ellen (compumom) came from California. Cathy (Mustangs) came from Florida. Nancy (wizardnm) came from Northern Michigan and of course, I just had to tag along.
We all pitched in and rented a house close to Sherry: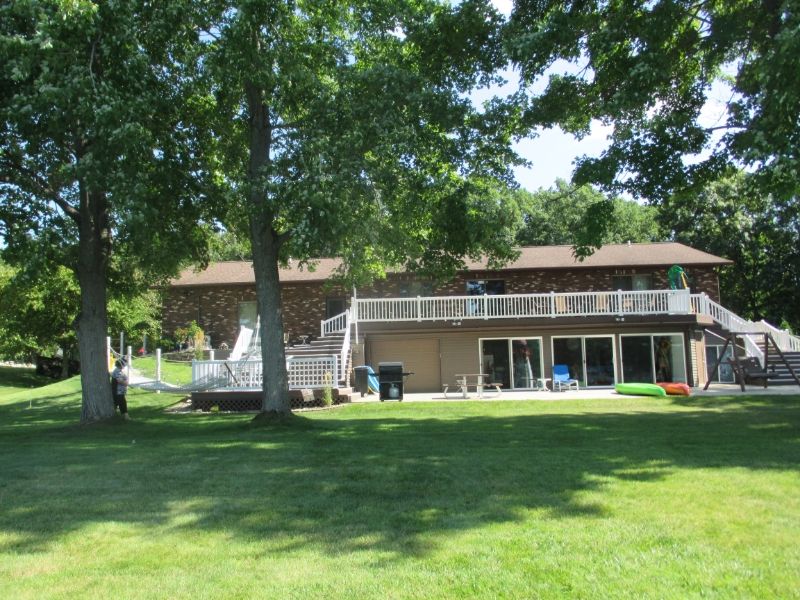 It had a lovely lakefront and some boats available for use. If I could have stayed longer, I've have broken out the swimsuit and tried the kayaks, but it was not to be, I had a date in two days to take 4 grandkids to the amusement park.
Instead, we went wading. This is Sherry, Jessica and Nancy.
We exchanged some gifts. Nancy brought lovely pottery colanders, just the right size for a cup of berries. Aren't they unique? Mine is on my counter right now, I think I'm going to keep garlic in it just to have an excuse to keep it on the counter where I can see it!
Cathy, The Gadget Queen, brought silicone spatulas. They are slender enough to slip under an omelet and sturdy enough to stir some rice sticking to the pan, very handy: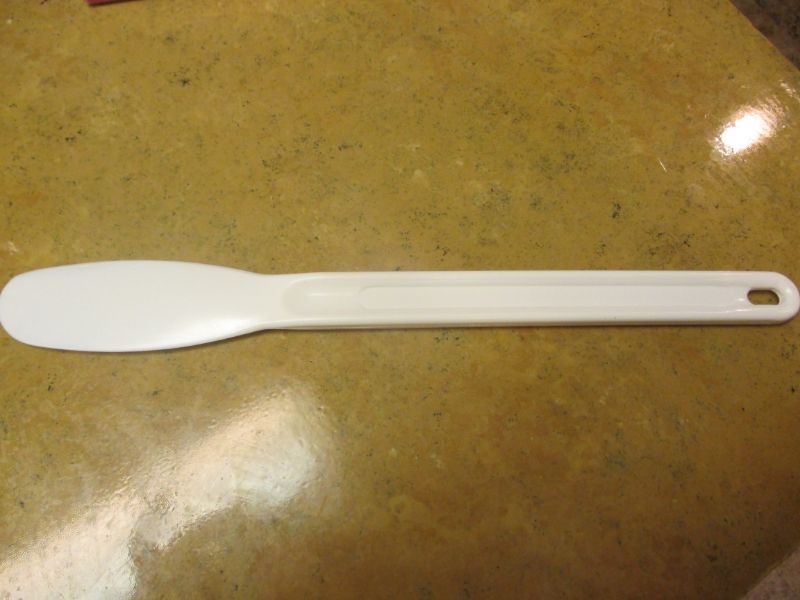 Jessica brought paella pans, made in Spain and just the right size for paella for two. Maybe. Unless you are like me, then it'll only serve one, LOL.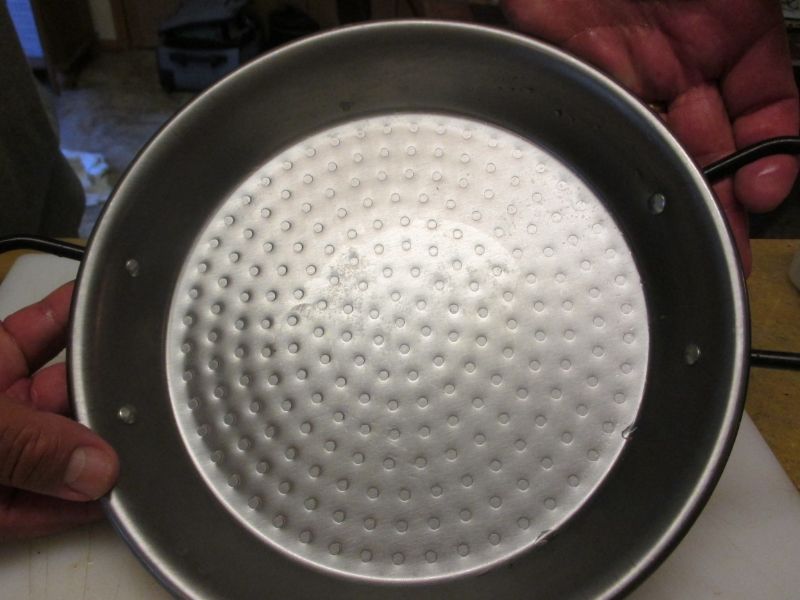 Ellen brought some dried champagne grapes, some fruit squares and coffee. I didn't get a picture of those. :-( I brought dehydrated garlic, marmalade made with various liquors and flavored sugar for the rims of glasses. My plan was to also bring the booze necessary to make the mojitos and pina coladas that the sugar was meant for, but I ran out of time. I did manage to bring some of this, though....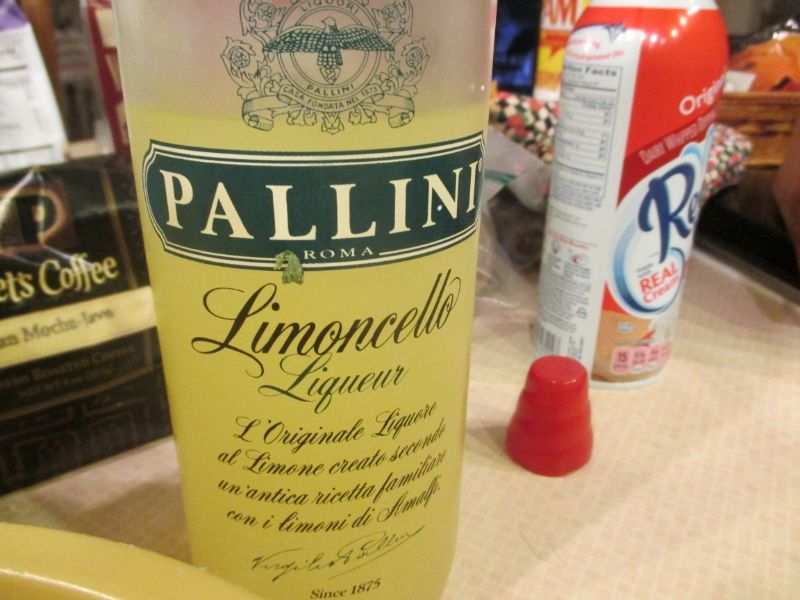 Food? Oh yeah. Food. Yes indeed, we ate. Nancy brought fresh tomatoes, as did I. I also brought some of the first corn and homegrown chickens. Sherry made a nice marinade for the chicken, Nancy demonstrated the microwave method of cutting the end off the corn and shaking it out of the husk, Cathy made an insalata caprese with the tomatoes, basil and mozzarella and Jessica grilled the chicken.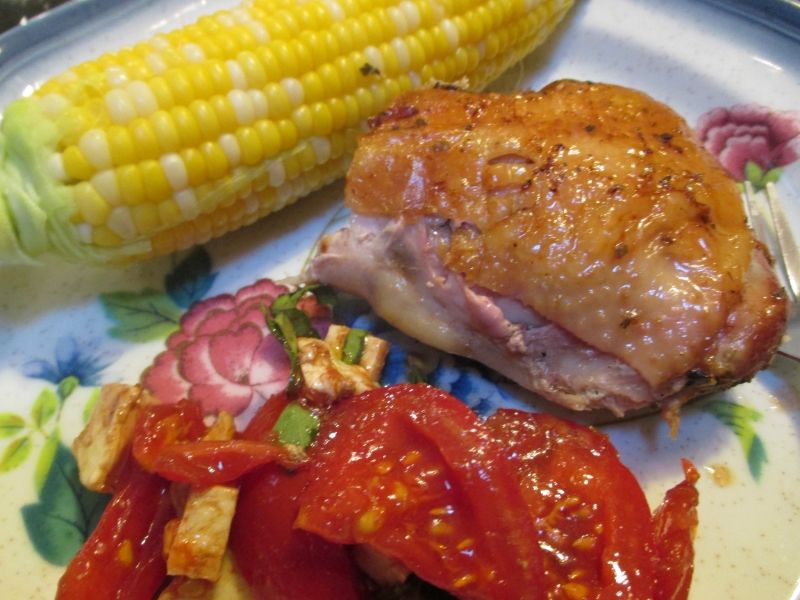 Jessica made a plate of something that doesn't have a name, she just calls it "that eggplant dish". It was very good, made of eggplant, sundried tomatoes from Trader Joe's, feta cheese, olive oil and mint and served on crackers. We ate enough to make it lunch, it was both delicious and beautiful. Not too pretty to eat, though...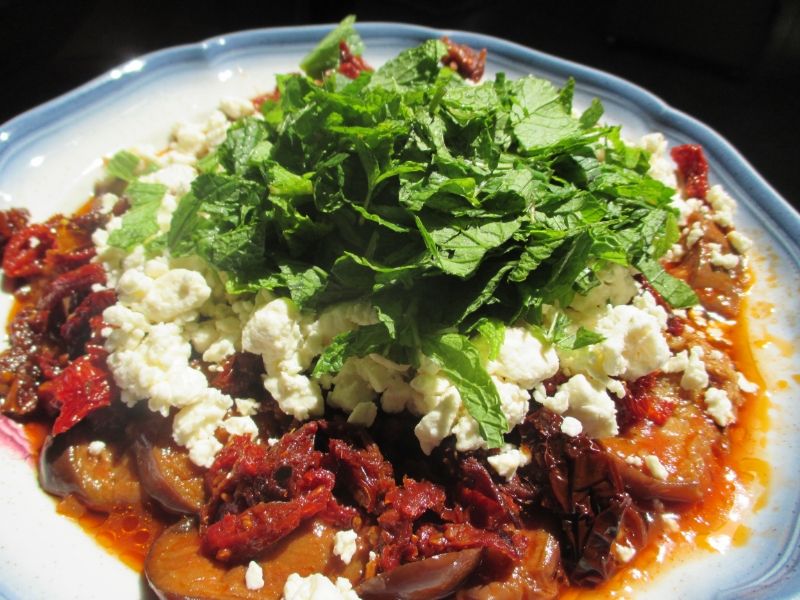 We had some fresh local peaches, I don't even know who brought them. Yeah, I'm embarrassed. So, instead, Jessica displayed her peaches for the forum. As you may remember, in the past she has also displayed her tomatoes and her pomegranites. Or was it persimmons? Anyway, Jessica displays them shamelessly, the hussy. (grin)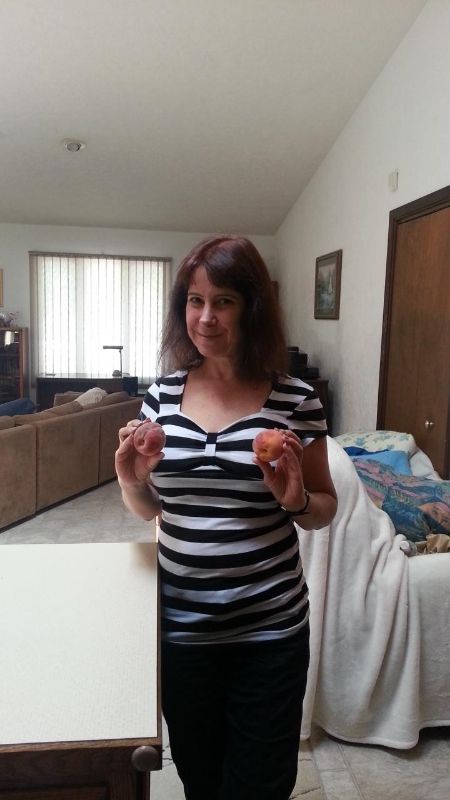 I know the day I left Nancy was making a pasta dish with more fresh tomatoes and herbs, and I'm sad I missed that, but maybe someone else will post more pictures....
Dessert? Yes, I will, thank you. We had slices of angelfood cake soaked with some of the limoncello and topped with fresh raspberries and strawberries and whipped cream.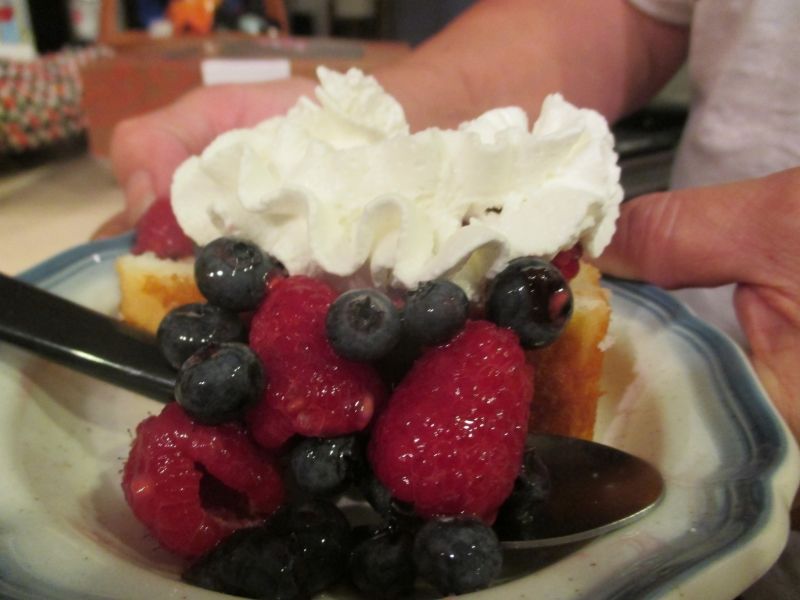 We spent hours on the deck talking, helped Sherry pack and organize some stuff, ate and drank and gossiped. Well, of course we gossiped about YOU. (grin)
I was sad that Michael/Lyra/Bunnyman couldn't make it, or Lakemayor or Peppi or Doucanoe or lpinkmountain. We missed them all, but we'll see them again, hopefully soon.
I know we got some pictures of all six of us because we recruited a "random stranger" to take photos of us in front of the restaurant Sunday morning after breakfast. Hopefully, someone else will post those too.
And a good time was had by all. I think. Maybe my memory is foggy because I'm getting older. Or maybe it's the limoncello. (grin)
Annie
(Edited to add photo of Jessica showing off her peaches)
This post was edited by annie1992 on Tue, Aug 19, 14 at 23:56