1906 Wallpaper discovered under paint layers
StoneHouseGuy
January 21, 2014
We're in our new old house (circa 1906) since Thanksgiving and spent some time since Christmas (now and then) scraping the wallpaper off the music room.
From what I can tell there were 3 layers of paint on the original wallpaper in the room. The paper was pasted directly onto the raw plaster so I get to see the room as it was shortly after the house was built - that's exciting to me. Some lifted off dry in huge sheets the glue was so dried up. I also can see how the wood trim in the room was installed unfinished and then stained and finished in place since some of the stain overlapped onto the plaster.
I wondered if I could ever see what the original paper looked like. So I tried soaking a large sheet overnight in plain water. The next morning, to my surprise, I was able to lift off a fairly large segment of the paper from the sheet of paint - maybe I'm lucky it was all latex.
The paper is like craft paper - unfinished - and has a block or cylinder printed (more likely) white paisley-scroll-like design. Pretty exciting find!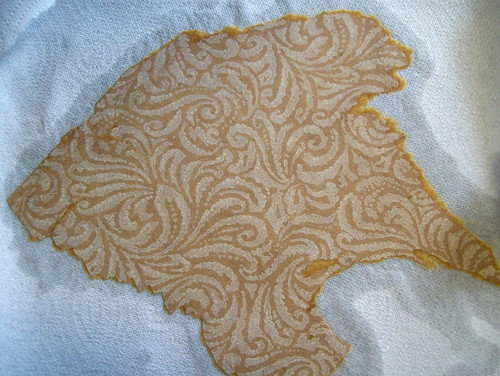 Here is a link that might be useful: Stone Shack