Appropriate Kitchen and Dining Room Lighting for 1930's Colonial
sergeantcuff
January 15, 2009
I have some lighting questions concerning my 1930's center-hall colonial. The house is modest but well built, with living room on one side of the first floor and dining room and kitchen on the other.
We plan on having major work done on our old kitchen. I have been looking at vintage lighting fixtures but am unsure about what would be appropriate. I dislike recessed lights, but plan on some undercabinet lights. I'd like a central light fixture, and have looked at many flush-mounted "schoolhouse" fixtures but really would like something a little more interesting. (and I've seen them in so many magazines that I have grown sick of them). Ceiling is only 8 feet and room is only 10 x 12 and has 3 doorways and 2 windows. The hideous fan hangs down about 16". I have seen some pendant-style fixtures (the shade has 3 holes and is attached to the fixture by thin rods?). But they may be too fancy for a simple kitchen and many hang too low. When I see the schoolhouse pendants used, they are hung as a pair or more. Would one hanging about 14" look dumb all by itself?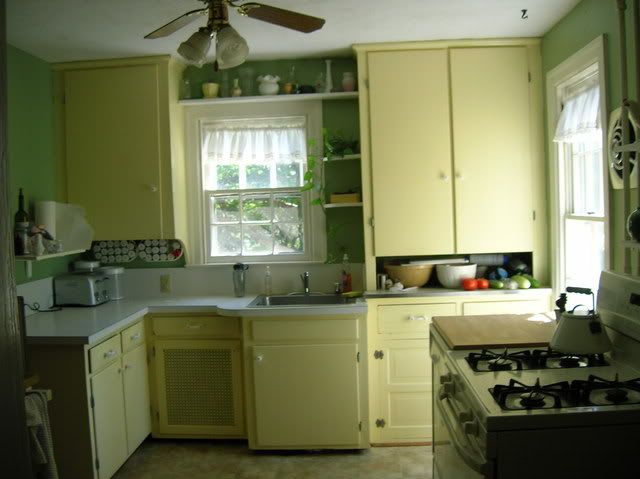 >Description
On to the dining room! (currently stuffed with kitchen stuff, beg pardon). This light was hanging here when we moved in 10 years ago. I thought it was really strange, but then got used to it. The shades look pretty bad. I have an old photo from the 1930's of this room that shows no ceiling fixture, unless it was a flush mount, because giant candelabras were on the table. When do you think it was out in? Was it someone's idea of colonial? Is it horrible? I'm just not sure. The plaster medallion may not fit this house either? What type of fixture would you suggest?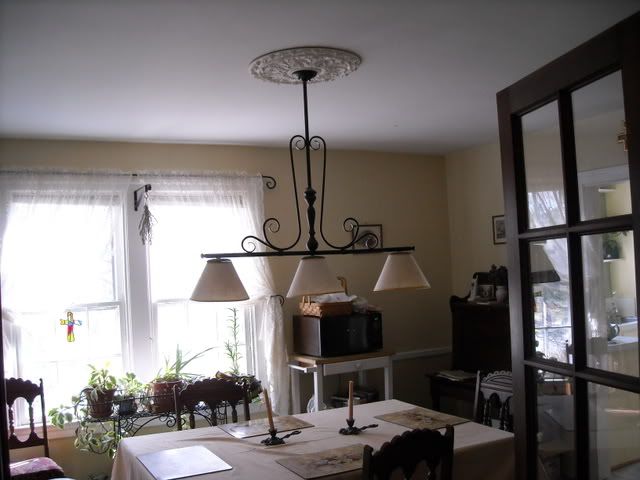 >Description
Any thoughts? Thanks for reading.