Our progress
katie8422
January 28, 2009
I made some before and after photos last night because I was feeling quite proud! We just have finishing touches left, like replacing the hand-me-down curtains, attaching the backsplash, and re-hanging crown moulding, chair and plate rails, etc.
Our house was built around 1900 and we're told that it's a transitional Victorian. It still has all the original floors, moulding, pocket doors, and wainscoting. We closed on Halloween and got a fabulous deal because the owner was in a tough situation. We're using a HUD rehab loan. It's our first house. We've learned a lot, and we're still learning!
The foyer is now my favorite part of the house, and I haven't even decorated it! I love the yellow (BM Honeywheat) with the woodwork.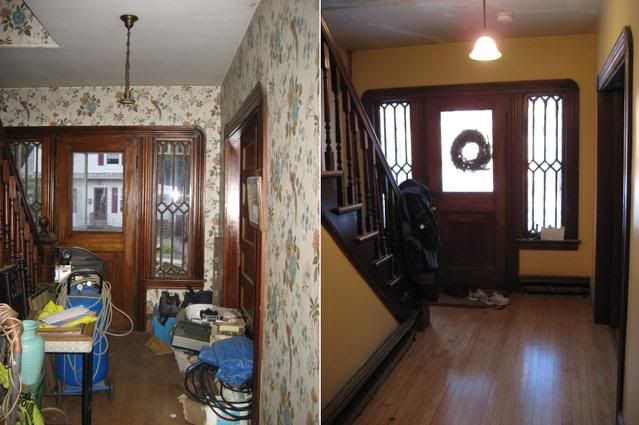 In the dining room, looking into the living room:
Mantel:
Living room. The paint is BM Jack Pine. (I haven't put up the real curtains yet and the hand-me-down tv cabinet will be replaced asap!):
Dining room is BM Moroccan Red:

Bathroom is BM Victorian Trim. I have bronze accesories to hang and I'm hoping to find crystal sconces, but I can't find exactly what I want yet. My poor clawfoot tub is in the basement, waiting to be restored to it's former glory.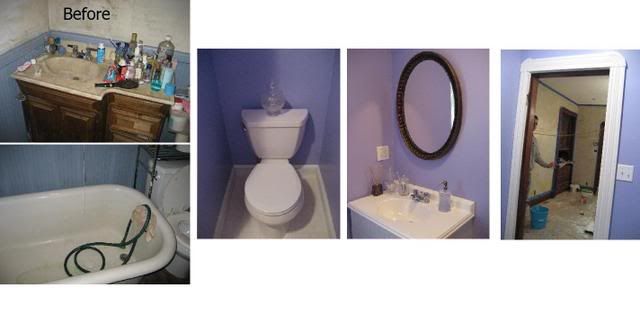 Kitchen, after taking out partition walls. These are taken from the same angle. Walls are Dorset Gold, cabinets are maple with cranberry-colored glaze, and the countertops are "tan soapstone."

These show the same wall in the kitchen, slightly different angle. Notice the drop ceiling in the before photo. The ceilings are 9' now.
This was the best surprise of the renovation. Our kitchen floor, sans laminate glue. WOW!
Our bedroom, after painting the paneling white, although you can't really see in this photo. There was no ceiling in this room when we bought the house. It was the easiest upstairs room to fix up, so we made it our bedroom for now. We'll move into another bedroom soon and ditch the paneling in here for good.