Open Shelves -- love them? hate them?
We're considering open shelves for our new (to us) kitchen. They seem to be everywhere on design sites and I've seen a handful of GW kitchens with them, but I'd like to hear from others who have installed them. Would you do it again? What are the drawbacks, if any?
From a space planning/storage perspective, we've inventoried everything we have and we have enough storage for our stuff we don't want on display. The open shelves would simply be for wine glasses, cups, coffee mugs, every day plates/dishes and decorative items. The things that are giving me pause about open shelves: we've got 17 foot high sloped ceilings, two kids and a large shedding dog, and I'm wondering about the shelves/plates/glasses and how dusty they'd get with open shelves. We're also in an earthquake zone and we have minor shakers once in a while (hello, falling plates on my kid's heads). Lastly, our kitchen is not a large space, so we will only have three other upper cabinets in the space.
Some shelves in my inspiration file: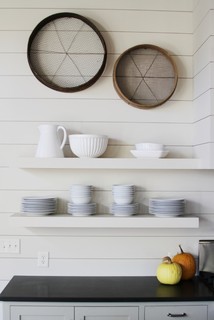 Beach Style Kitchen by Atlanta Interior Designers & Decorators Yvonne McFadden LLC
Modern Kitchen by Marina Del Rey Cabinets & Cabinetry Cliff Spencer Furniture Maker
Modern Kitchen by Toronto Architects & Designers Wanda Ely Architect Inc.
This post was edited by pipdog on Mon, Feb 3, 14 at 1:58