Desperately seeking backsplash help for light granite counter!
fun2learn
February 26, 2011
I'd appreciate any advice, photos, suggestions, etc. you can give me to help me design a fantastic backsplash--I'm having a hard time! We recently did some minor remodeling that gave me an excuse to get a new countertop! I had a "harvest cream" granite countertop installed a few weeks ago, but so far, it doesn't look quite as fantastic as I'd hoped, and it is proving VERY difficult to find a backsplash tile (either natural or man-made)that looks good with my the granite AND my 10 year-old honey-spice maple cabinets (I will post photos below.)I am really hoping that just the right backsplash will "tie it all together" and make it all look gorgeous. I know there are lots of you great,helpful folks out there with good ideas. And I've been looking at this for too long--I need some fresh eyes--yours!
Part of the problem is that the granite appears to be different colors from different angles, lighting, or distances! From a distance, and with daylight shining in, the overall color of the granite appears to be mainly grayish white with grey veins. It even appears to have more of a cool-blueish cast to it with daylight shining in. Up close, or at night, the whole thing looks more creamy or ivory overall, and you see the soft golden veins running through it, as well as the grey. Also, I'm discovering that if I pick a tile close to the color of those golden veins, it is too close to the color of my cabinets, and it just seems to blend into the cabinet color too much. The granite is a bit busy, so, I don't think I should pick any tile or stone that has a strong pattern of its own that would "fight" with the granite! Yet, I don't want the backsplash to be boring! HELP!!! My style preference is traditional/country/eclectic. I love lots of different styles- so I'm open to almost anything except overly fussy and ornate or ultra modern. I love subway tiles (especially the expensive (sigh) handmade ones with the crackle finish and overglaze) and glass mosaics and tumbled travertine! I'd love any suggestions you might have to help me make the kitchen look like the expense of that granite and the backsplash was worth it! Thanks so much in advance.
Here is an overview of my kitchen showing how grayish (or blueish) white the granite appears from a distance. (The floors need refinishing and are going to be redone in a gunstock color (a medium reddish- brown.))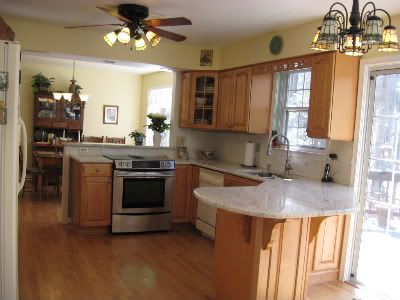 In the photo below, you can see how the counter can also look more ivory. I was looking at that sample of "white gold slate", but think it might be too busy. What do you all think? I do like the colors in it, but I think the gray in it might be a bit too blue. I am open to a slate-if it is just the right one. (Also- that bisque dishwasher is going to be replaced with stainless (what else these days?) to match the range, soon. I taped construction paper on the backsplash to hide the distracting green paint! )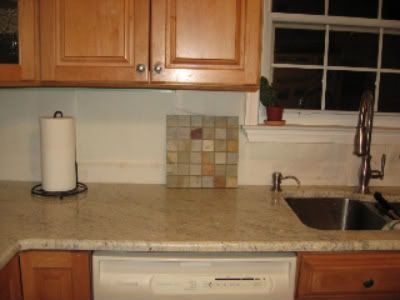 Here is a close-up with a sample board of tumbled white travertine. I covered up the bronze inserts with paper so as not to distract me too much. Do you think it is too pinkish-beige for my granite? Too boring?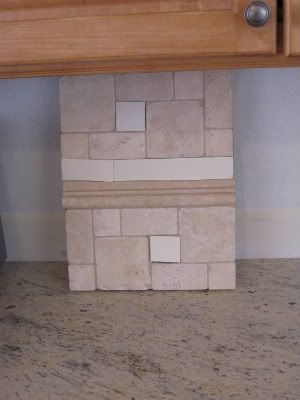 Here is the same tile, from further back
Here is some "chiffon" crackle ceramic tile. Does it look too bright for the granite? Does it make the granite appear dirty by comparison?
I also looked at some Rixi crema tiles that seemed to be a better color match than the chiffon (a slightly darker and warmer ivory), but it just didn't seem to be that "special" like some of the other rixi colors--you could hardly see the crackle - but maybe you would with a whole wall full. (Sorry- I didn't take any pics of that one.)