Copper deck railing system
tridogdude
December 15, 2013
Patio deck on our home was 4"x4" wood posts (painted) and drilled for cable rail system. We bought the house with this existing railing. The biggest hassle was the maintenance on it since there are a total of 25 posts that need painted and scraping to refinish. Try scraping and painting around cables on just one post and you will see what I mean.
Anyway, after much thought last winter, I came up with my own design and started fabricating a new railing system completely out of copper tube. There are 24 each posts made from 1-1/2" copper pipe and 1 inside corner post made from 3" copper pipe. Each tube had to be drilled thru to allow for the horizontal runs which are all 1/2" copper tube. Each post is attached to welded steel bracket that was built to allow for adjusting plumb. The brackets are fastened to the deck face with stainless steel lag bolts.
The top railing of 1-1/2" copper is not yet installed on part of the deck and is shown in one photo. This was a very labor intensive project but we will never have to touch it again for maintenance.
All the 1-1/2" copper and some of the 1/2" copper was all scrapped from jobs I have worked on so this is mostly a recycled deck railing system. There is over 700 feet of 1/2" copper and 220 feet of 1-1/2". The one 3" post is 4 feet.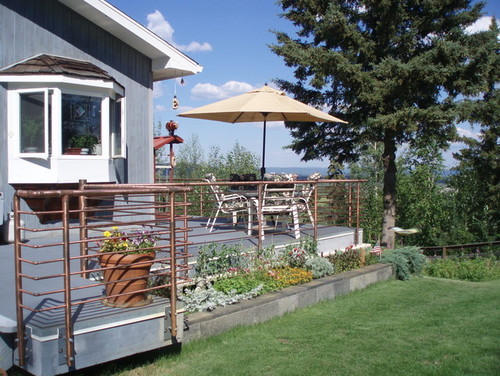 Here is a link that might be useful: Houzz projects