DId pressure washer ruin my copper caps? How to clean?
Hi all,
I'm not a metal person--mostly I hang in the kitchen forum but knew about this forum from the discussion on copper countertops. I need some advice from you metal experts.
Please help. Last week, the painters pressure-washed the house and my new deck before starting a new paint job. I know the solution contained bleach because I could smell it and I saw the containers. I don't know what else was in the water.
I noticed that night, my copper post caps had grayish water spots all over them. I tried to wipe it off and it had dried and nothing would come off. So that night, I cleaned all of them with lemon and salt, which I use on copper cookware. That made them shiny again and took off all the grayish spots. But, the surface is now mottled, like it's etched. AND worse, the caps I polished all returned to the mottled gray look within a day or two.
I"m just sick--these costs $15 each and I have about a dozen. I knew they wouldn't remain in perfect condition, but this looks awful. Below are photos of what it looked immediately after they washed them. Let me know if you want to see what it looks like when I clean it.
ANy advice on what to clean them with so it will stop immediately turning back to the spotty, gray yuck?
THANKS
Susan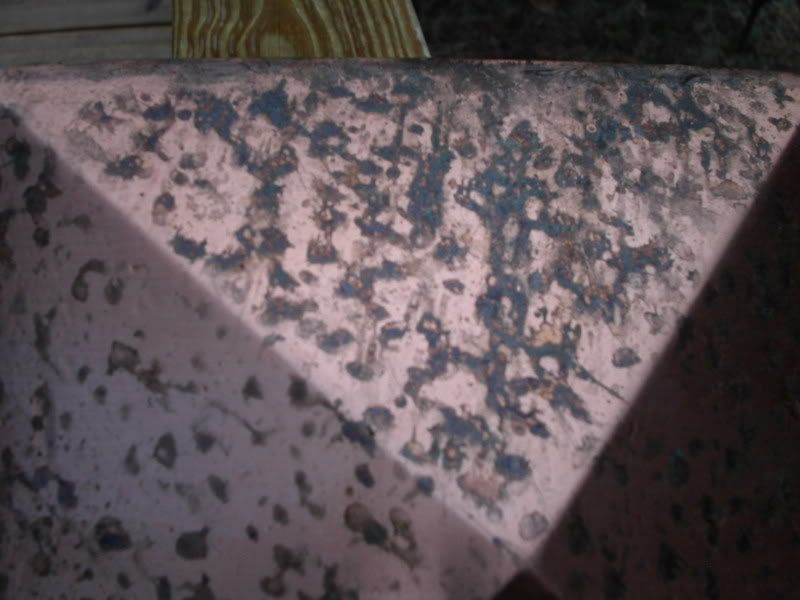 T0013-3.jpg" border="0" alt="Photobucket">