Homebuyer23's REVEAL!
homebuyer23
January 12, 2014
Huge Thank You to everyone on this Forum & to whoever invented this forum! I am still amazed at the free help offered here, you are all wonderful!
We live in a suburban 1980s center hall colonial. We moved in 5 years ago and cosmetically updated the whole house. Then we did the bathrooms. Finally it was time to make a real change to the kitchen. I had absolutely no counter space. The kitchen was just too small for our growing family of 5, but we did not have enough space in our backyard to expand. It has always frustrated me that our kitchen was so small, yet we had a large formal living room in the front of our house which we never ever used. Here is our old layout:
I saw a picture of this kitchen on Houzz that was my inspiration for my layout. It was a long narrow kitchen and I knew our house could fit the same basic layout.
Traditional Kitchen by Mill Valley Architects & Designers Mahoney Architects & Interiors
We decided to take out a load bearing wall which separated our family room and our formal living room. We turned the formal living room space into our main family room. This allowed us to spread our kitchen out through the back of the house, using the space where our old family room was.
Using my graph paper sketch and the paint feature on the computer, I came up with this drawing and this is what we used to do the project. No architect. No designer. It was scarey and likely stupid. We had a couple obstacles along the way and it would've been great to have an expert in my corner as we went along. But it ended up working out Ok.
There were many advantages to this plan for our family & the way we live here. We have been using the space for a couple months now and just went through the holidays hosting many gatherings large and small, and I am relieved to say I am really glad we did what we did & its working out just how we hoped. Hosting large gatherings is a huge difference but also day to day we just have more room to spread out, and of course, we gained so much more room in the kitchen and I enjoy cooking way more than before. Its such a luxury to have so much counter space, a huge sink, and new appliances. Ahhh.
The fireplace & dining area still does not look how I'd like it. We'll have to come back to it in a year, or in a few years. I want some sort of cabinetry on both sides of fireplace, a new mantle, new furniture and a new rug. We will see. I also want new furniture for the family room.
We plan to make our old formal dining room into an office/den, but right now its serving mainly as a catch all room which is driving us crazy.
I believe we ended up with a pretty functional layout even by GW standards. I became so obsessed with the guidelines/rules here for a while & it really stressed me out! In the end, I broke a couple rules but I am happy to report that it hasn't ruined my life! We have a 12" overhang instead of the recommended 15", and we don't miss it one bit, even my 6'3" DH. The aisle between our sink & island is about 38", 36 in front of apron sink. There was no way we could get any wider, and I'd never choose to give up my little island for a few more inches to scoot around each other. (That being said I fully admit when the DW door is open it is rather tight! If you can give yourself a wider aisle in front of DW, do so. Otherwise the aisle is not a problem.) We also have no prep sink and I don't miss it. Having never had a prep sink, the huge sink is luxury enough for me and I don't think I had the real estate to give to a second sink.
Sometimes I still look hard and wonder what I could've/would've done differently. I love my solid gray quartz counters for their function and because I like solid counters. However, I sometimes wish I picked a warmer color, and then maybe did a warmer backsplash. I had a hard time balancing my longtime love of warm earthy colors & furnishings I can't afford to replace yet, with my desire to go with the refreshing cool white kitchens I kept seeing everywhere. I really wanted to end up with a white kitchen that was still warm and cozy. Most of the time I think I achieved that, but sometimes I have regrets & think it doesn't look exactly like I wish it did. But I am queen of regrets & never being satisfied, im just one of those people!
In the end what really is important is that I have a new more functional space which allows me to enjoy cooking more and allows our family to be more comfortable together in the house and that's all that matters. I am so grateful for what we have and I love using it! Thanks again to everyone on this forum for advice and support.
DETAILS:
Cabinets - Oxford Cabinet shop, Oxford, PA. Custom beaded inset shaker style Maple painted BM White Dove. Island cabinet cherry wood with "coffee" stain
Perimeter counter - Silestone Gray Expo.
Island counter - Calacutta Vagli Marble, honed.
Backsplash - "Hamptons Cararra" marble satin finish subway tile from The Tile Shop.
Hardware - Amerock Westerly in brushed nickel
REF - Samsung counter depth
Dishwasher - Bosch 800 series
Wall Oven - Bosch 500 series
Induction cooktop - Bosch 36" 500 series
Hood - Broan E4 Evolution
Microwave 24" Sharp Microwave drawer
Garbage Disposal - Insinkerator 3/4hp batch feed from Home Depot
Sink - Kohler Whitehaven 36" w/ 9" apron ordered through build.com
Faucet - Hansgrohe Talis C in Chrome amazon.com
Undercabinet lighting - Sea Gull LED bars
Recessed lighting 4" LED CREE from Home Depot
Island pendant - Overstock
Dining Room chandelier - Quoizel ordered through Lighting Direct.
Floors - site finished Red Oak with Golden Oak stain
Patio Doors - Andersen 400 series sliding doors from Home Depot
Kitchen/DR/Fam Rm wall paint color - BM Revere Pewter
Foyer, powder room, mudroom closet color - SW Smokey Blue
Before:

Before: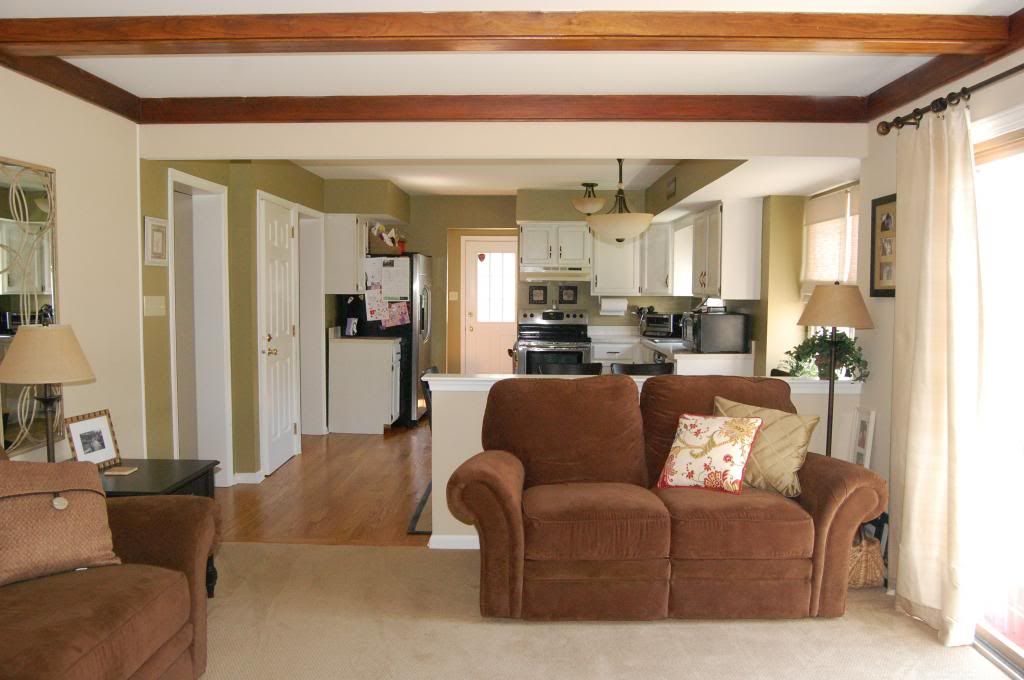 After: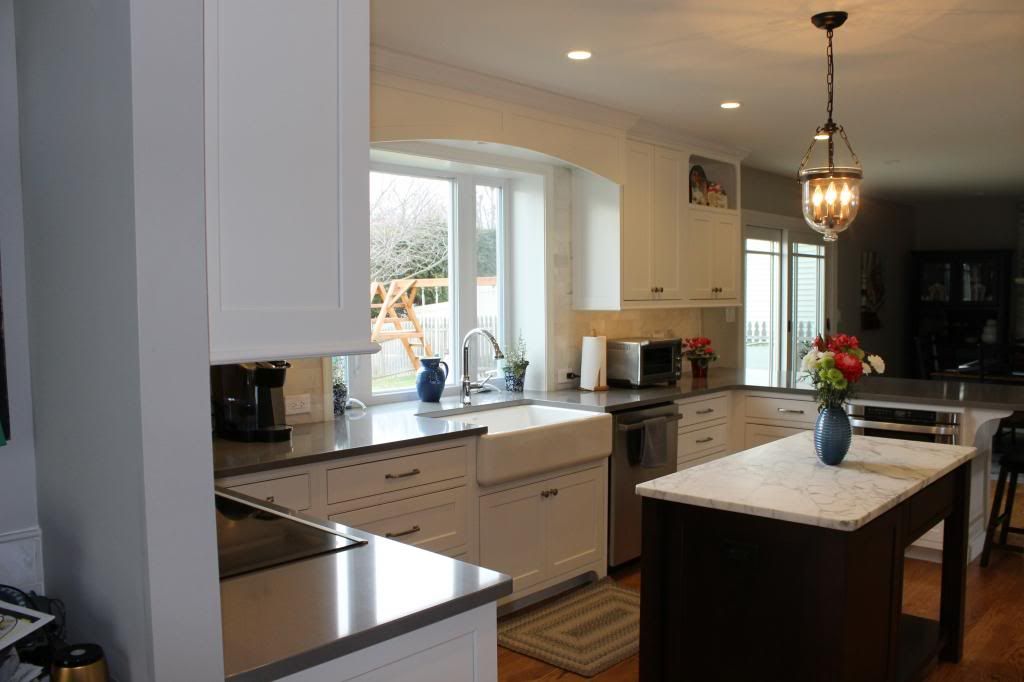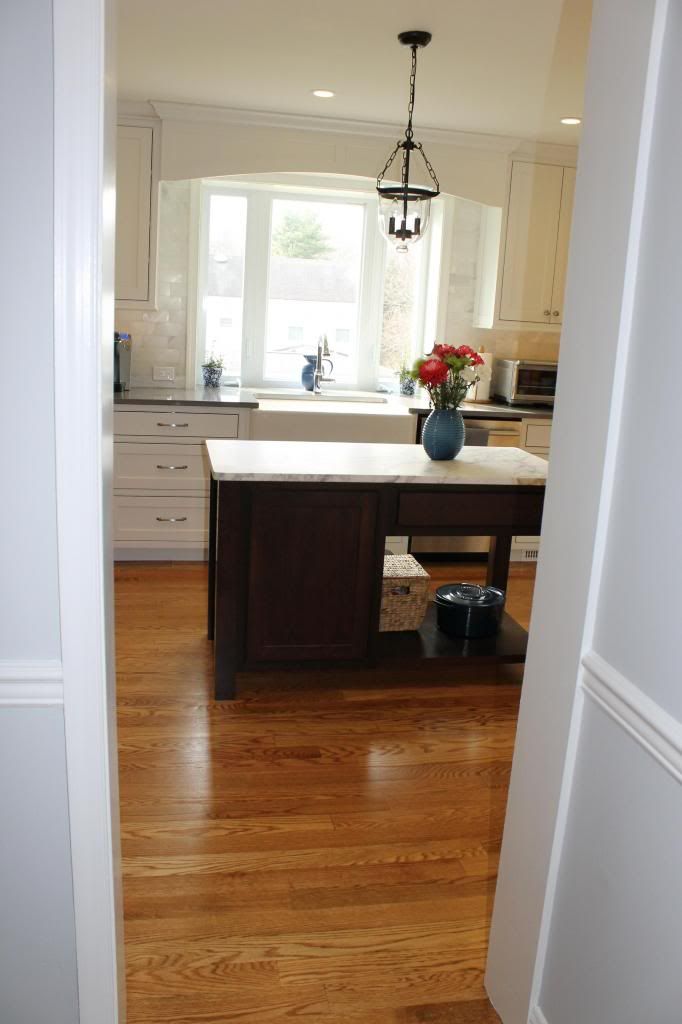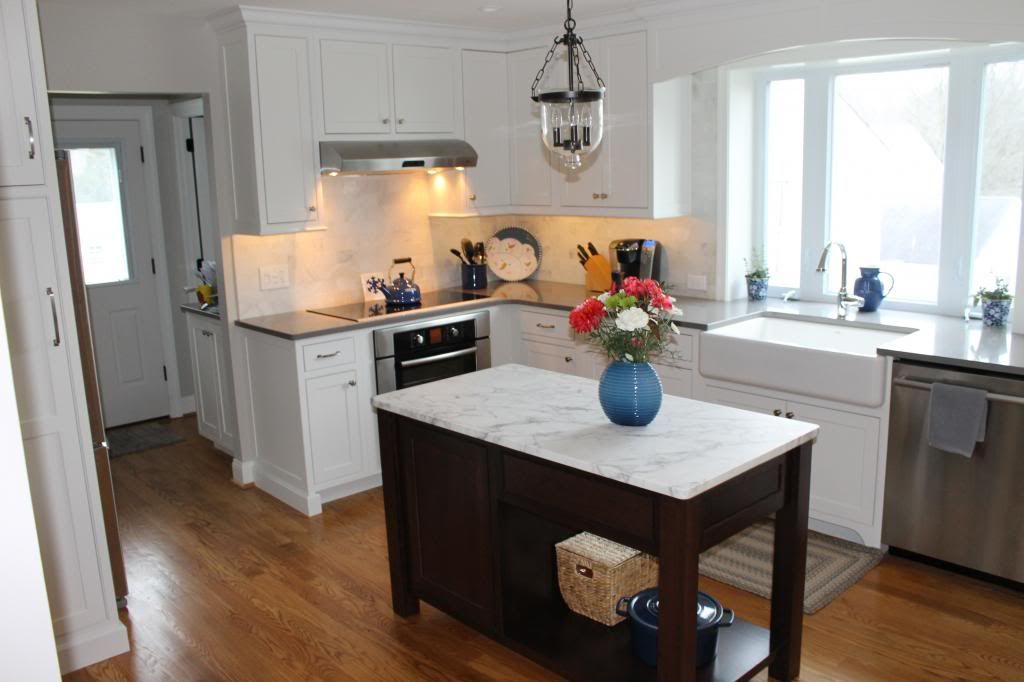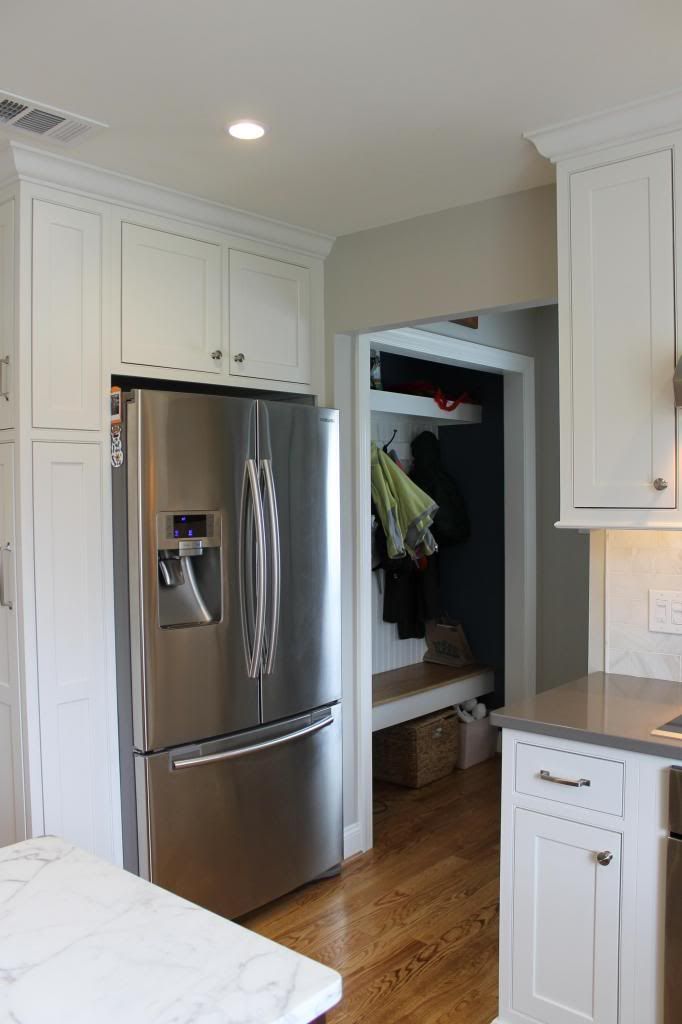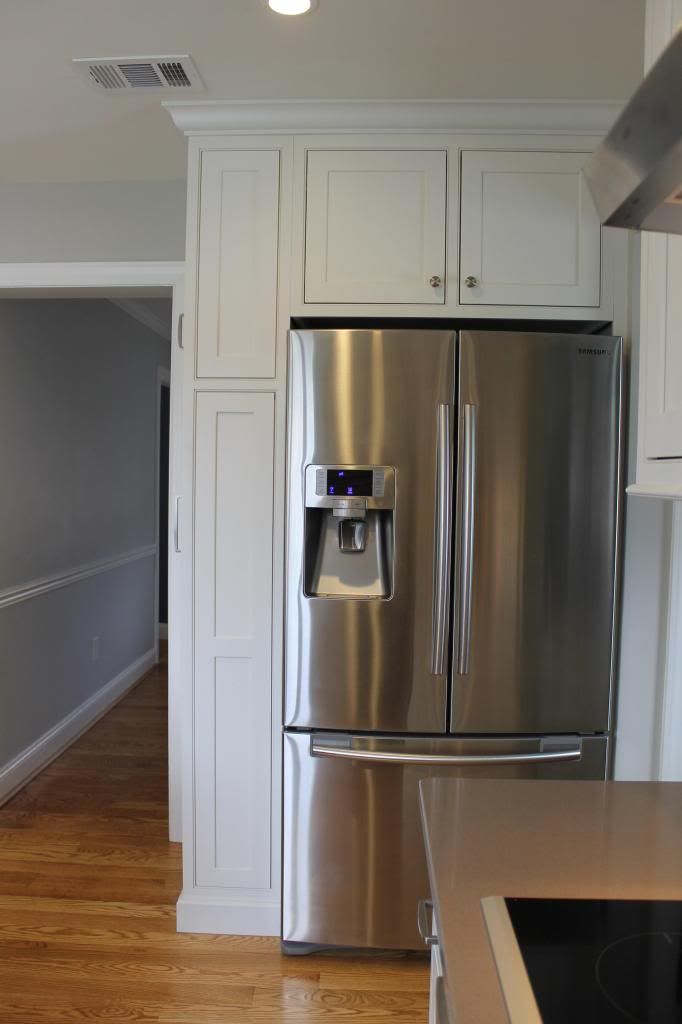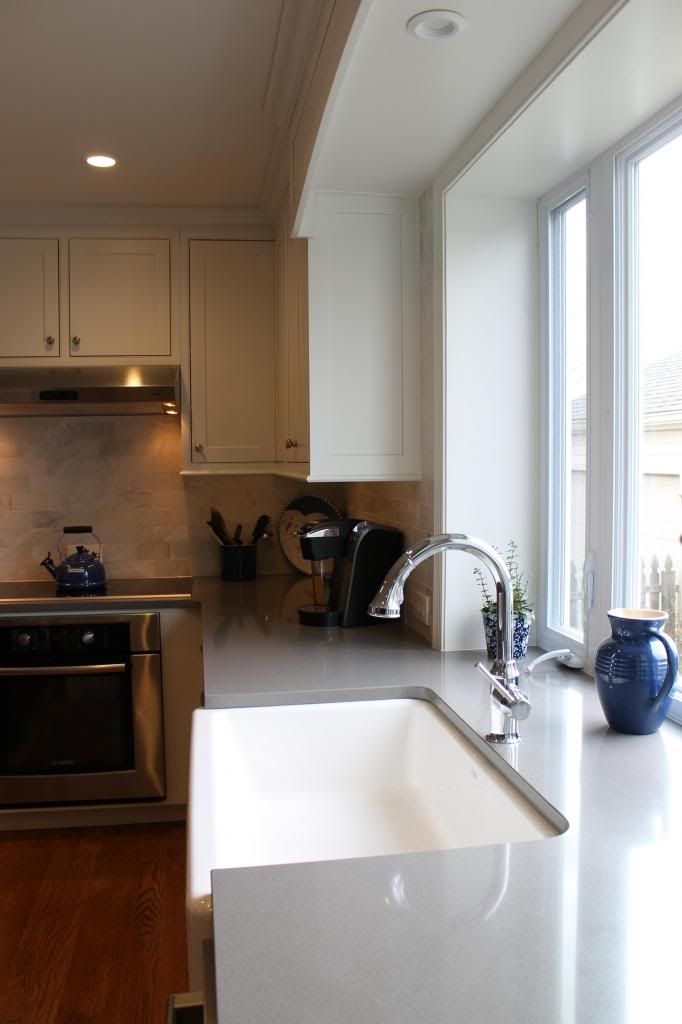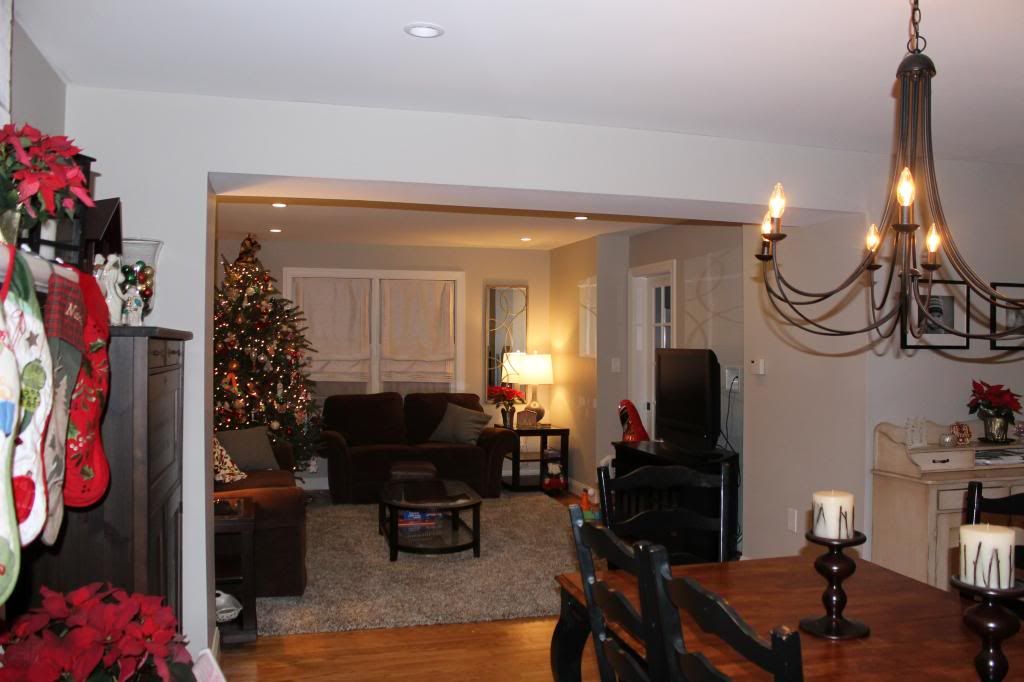 Kitchen TV...Now you see it

Now you don't

Now you don't, even though you should...(ugh, this was discussed w cabinet maker and I was told the doors should go all the way back, maybe stick out an inch. They stick out 4", and I cant see TV while cooking if I wanted to. I'm still waiting for a solution to this.)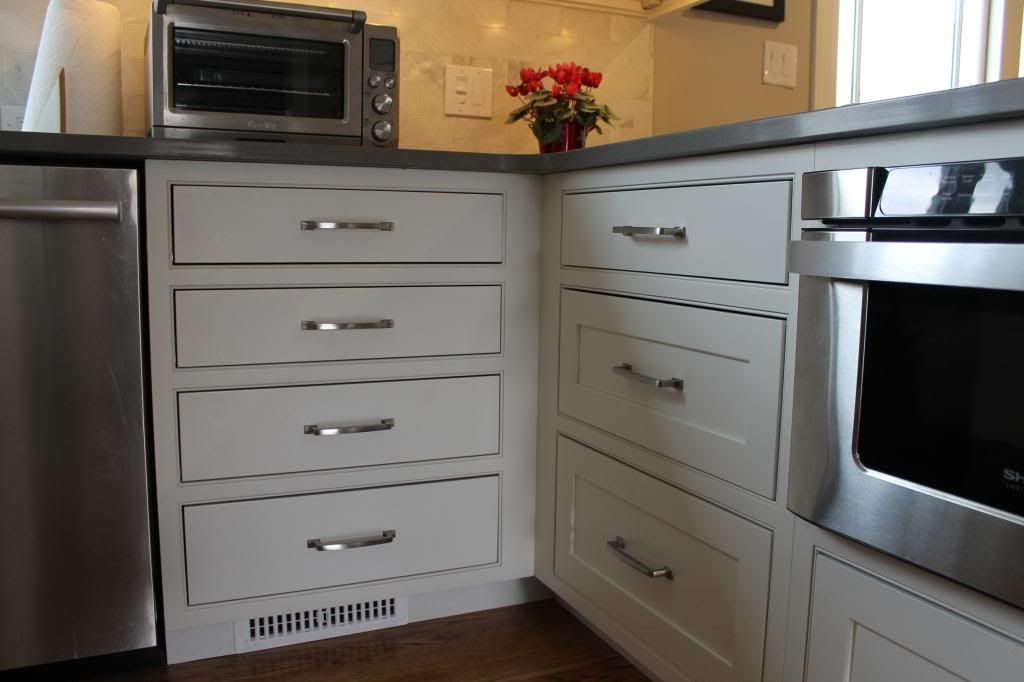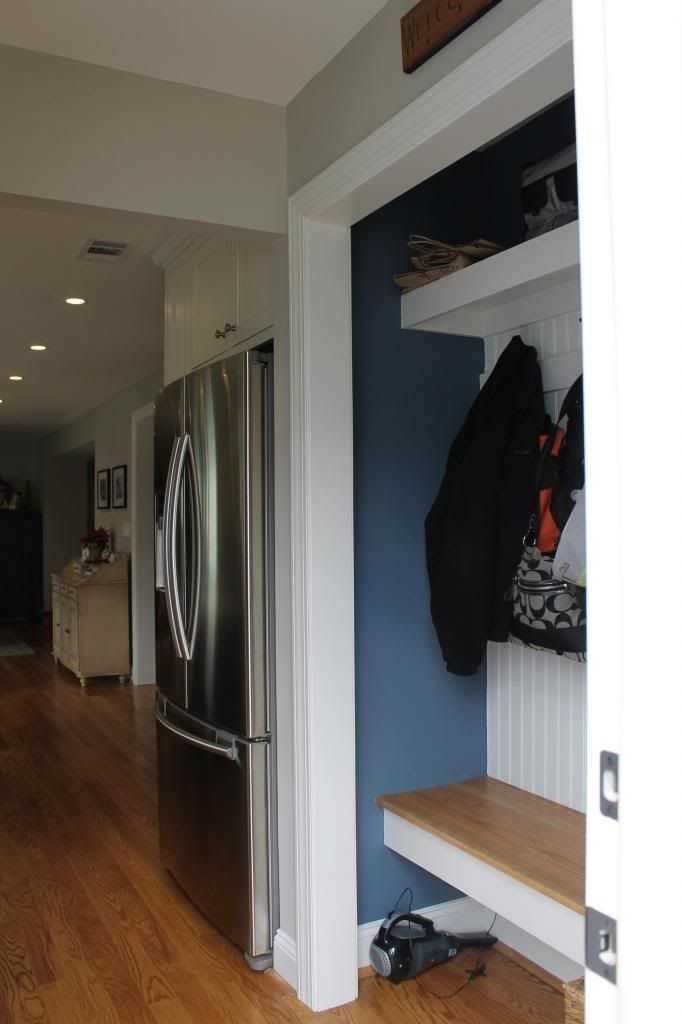 Thanks for looking!