Christmas in August at my house
(Apologies to ann_t for first hijacking her thread on her new kitchen toy. Not intentional!)
This is beyond toy, even for me, but I am as happy as if it were Christmas and I was six years old and Santa brought me a pony.
A month or so ago our old range, a 20-year-old JennAire, blew a circuit board and would no longer self-clean or broil.
For our anniversary, DH gave me a check to cover the Capital Culinarian range I had planned to install when I redid the kitchen 3 years ago but ran out of money. The range arrived last Monday, which was our anniversary :-)
I bought the great Chef King griddle to go with it. Here is a pic of the range with the griddle, in the process of cooling after breakfast prep this morning. Also on the top left is the wok grate. Haven't used it yet. This morning I fixed fried potatoes, Benton's bacon, and fried eggs on the griddle (this is NOT a typical breakfast for us!!). It was SO much fun. Acres of real estate to shove things around on.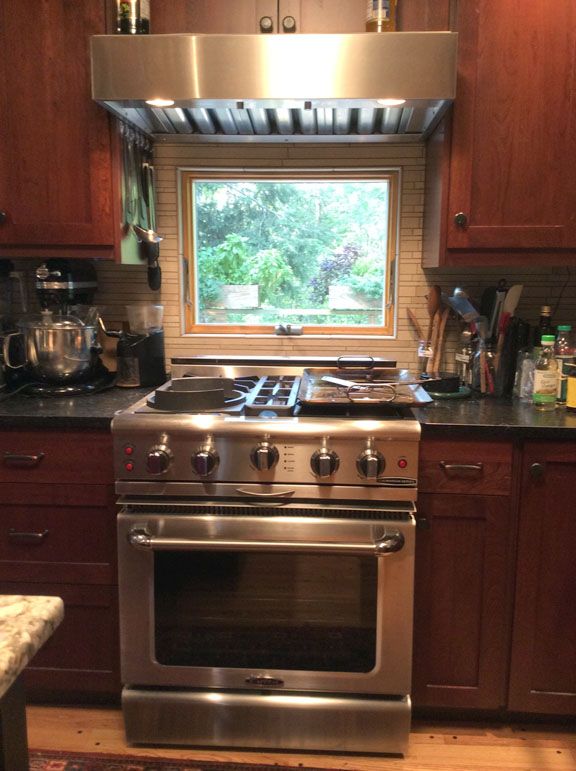 The griddle can be stored in the oven--barely!! And it is supposed to look like this only more so. When properly seasoned it will be pretty much solidly black--like a good wok or carbon steel skillet.

Are those not lovely toys? Are you sure christmas doesn't come in August?
(BTW, as you can see, my initial dream of a clear expanse of uncluttered countertop did not last long. Counters are now lined with "toys", but I prep on the island which does stay fairly clear.
Here is a link that might be useful: Chef King 14x23 griddle