Dining and family room transition help! (lots of pics)
We bought this 1972 house this summer and have been updating it, mostly DIY. WeÂre still in the middle of a complete kitchen remodel, but we have reached a critical point in the process. We knocked out most of the wall between the kitchen and dining room (it previously only had a 30" doorway). We were planning to try to update the spindles in the half wall between the dining and family room, but now weÂre not sure.
The reason we have to decide soon is because weÂre laying new flooring (handscraped laminate) all through the downstairs. You can see the new floor already down in the kitchen. So the question is, should we keep the half walls in the dining/family area and floor around them, or take them out completely and run flooring continuously?
The spindles seems dated (they match the front of the house, but that doesnÂt seem like a good reason to keep them ;-). Could we do some sort of simple column(s) instead of the spindles? It would be more work to tear it all out, but maybe it would open up the space more? I already painted the family room an olive shade, but itÂs too dark so I was planning to repaint it the same as the partially painted dining room (SW Camelback), so paint transition wonÂt be an issue.
Please ignore the mess in the photos. It seems as though every room in the house is under construction. I hate to show our disarray, but everyone on this board has such good ideas, I'm hoping you can help us. WeÂre open to suggestions, idea, personal or inspiration photos, anything!
Sarah
Family room looking into dining room (listing photos, before we bought the house)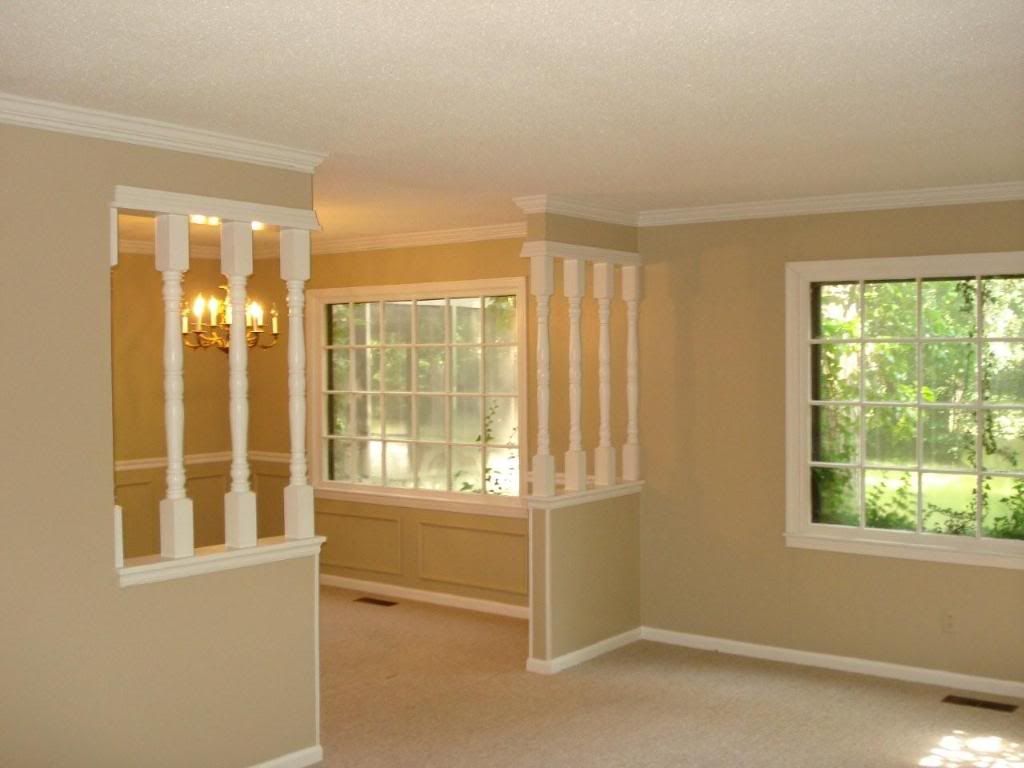 Matching spindles on front of house
Flooring in kitchen (to go throughout dining and family room also)
View from kitchen into dining and family rooms