Curb Appeal A-Frame lake house
ozarkginh
January 13, 2010
Am not sure if this should be posted to remodel forum or decorating forum...
We purchased an A-Frame lake house (2nd house)for family fun & investment. Have to replace the "2 story wall" (shown in pic)and the decking; opportunity to add curb appeal & maximize view (this side faces lake). Front door is on left wall halfway down and street side is side opposite the lake.
Inside wall being replaced: downstairs-living area on left & dinning on right; Upstairs-all master bedroom with deck,(can leave deck off and only have windows).
Downstairs should we do all glass (sliding glass/atrium doors)-or- do 3 casement windows of left and atrium type door on right with a covered deck. Upstairs should we keep the all doors arrangement or do a door & window arrangement? We do want a covered deck downstairs and thought we could squre it off, instead of use the house "A" lines.
Should the deck wrap around the side to the front door to would join outdoor areas?
We will paint house, but keep same roof as relative new.
What color to paint house?
Adding curb appeal to an A-Frame is a real challenge.
TY so much for your help.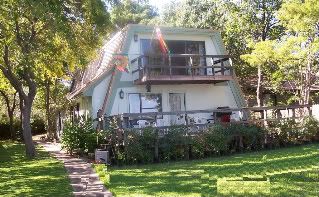 - Lake View-we've trimmed the tree on left.