Well, here's my current floor plan and a boatload of questions!
Hi everyone,
Here is a not-very-good screenshot of our current (horrible) floor plan.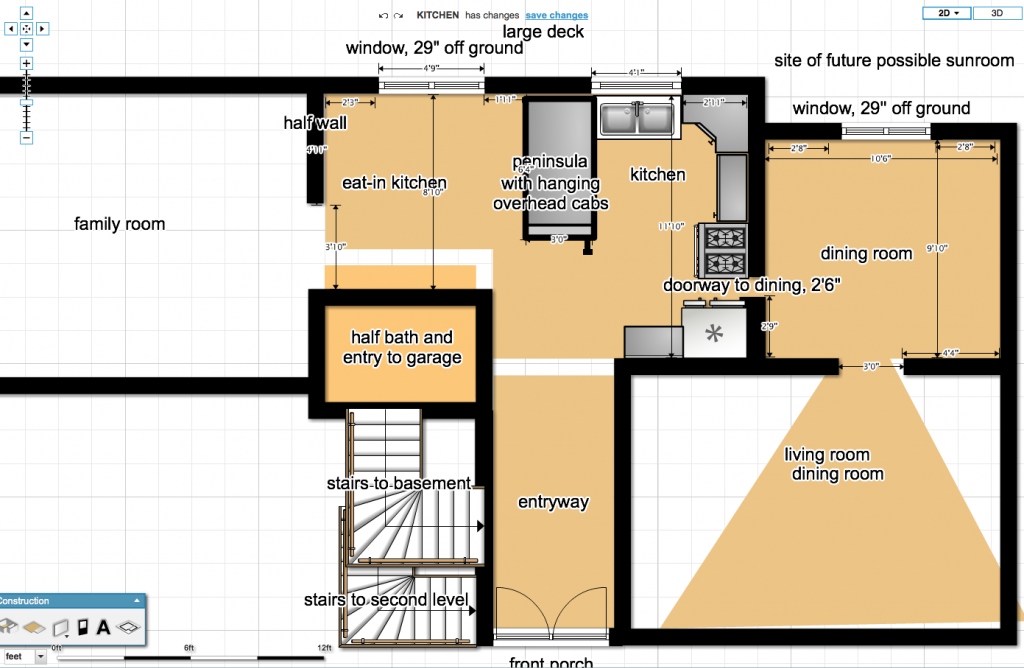 We are planning to redo the kitchen, eat-in kitchen, and dining room (which will not be needed as the "official" dining room, as we'll be using one end of the living room as a dining room). I want to completely rethink the layout with the ultimate goal of enlarging our current kitchen footprint.
There are two of us, and I am the only cook. There may be a third person joining us in the future... of a small variety... and so we are hoping to finish this by fall. (I know that is a rush by GW standards, but there are various factors that make this necessary!) I love baking and cooking and am very interested in making this as functional a space as possible!
Details: We want to keep our windows if possible because they are fairly new, which is why I noted that the two larger windows are somewhat low to the ground. Also, we hope to someday build a sunroom behind the large window in the dining room (replacing that dining room window with a door), so we don't want to put anything permanent under or around that window (and it's too low to have normal-sized usable cabinetry underneath it anyway).
We also know that we are going to tear down the non-structural wall between the kitchen and dining room. This will definitely open up the cramped kitchen. I hope also to move the dishwasher (which is currently in the peninsula) to the right of the sink, and then the range next to that. This may require moving the sink over a bit.
What I don't know is whether I should move the eat-in kitchen to where the dining room is now. There is a current table we use in our eat-in kitchen that is a family heirloom and quite beautiful that we want to use in the eat-in kitchen, wherever that ends up. This table is 3' x 4'4". If we did that, I could have a large run of upper and lower-level cabinets along the far wall of the dining room, and the table is small enough that it would still fit, especially with a more open layout.
If we made the current dining room the eat-in kitchen, we could have some more lower cabinets where the current eat-in kitchen is located, but the low window is a concern. The sill begins at 29" above the floor, and as I posted in my recent thread on this topic, I'm not sure what to do with a window that is so low, except that I am very interested in a baking counter with seating area.
I'm just getting started here and feeling very overwhelmed, but putting it all on the screen has helped me visualize some possibilities. Basically, I am wondering whether I am on the right track with my possible layout (I know it's very scattered right now, but I don't know where else to start), and whether any of you see other possibilities that I haven't seen.
Thanks in advance!