Sneak Peak Laundry Cabinets and Miele Set
enduring
December 23, 2013
I have been working on my bathroom remodel since April. I enlarged the room with the idea to add a laundry area and longer vanity. It went from a 8x5' space to a 8x9' space. The floor is porcelain and I spent many agonizing hours trying to make that floor adiqute for the W/D set. It has worked fine. The room is fairly short joisted and the set sits in the corner of 2 joining load bearing walls. The wood subfloor is 1.5" of wood (bottom 0.75" is diagonal wood planks that are from the 20's). I took the old T&G fur floor out (first carpenter did this) then he laid 0.75" sturdy floor. I laid an underlayment of 3/8" high grade ply, then self leveling compound. I placed electrical heating wires in the main floor area then set Laticrete uncoupling layer with modified thinset. I then tiled with 12x24" porcelain tile.
Before:
Floor plan with vanity upper right, toilet, tub on the other side with a shelf unit on the lower left at the tub.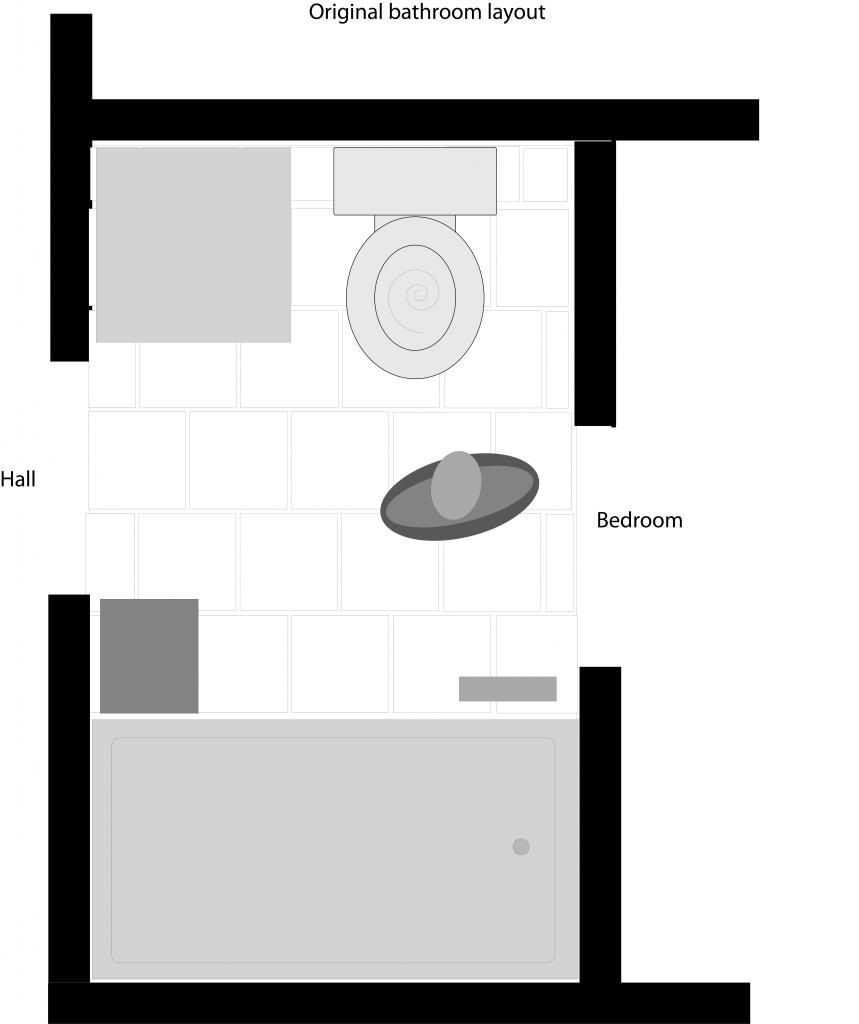 After:
W/D is the blue square in upper left corner and cabinets to the right. Partial wall is then next with the shower finishing off that upper wall in the image. Pocket doors are on each end of the room.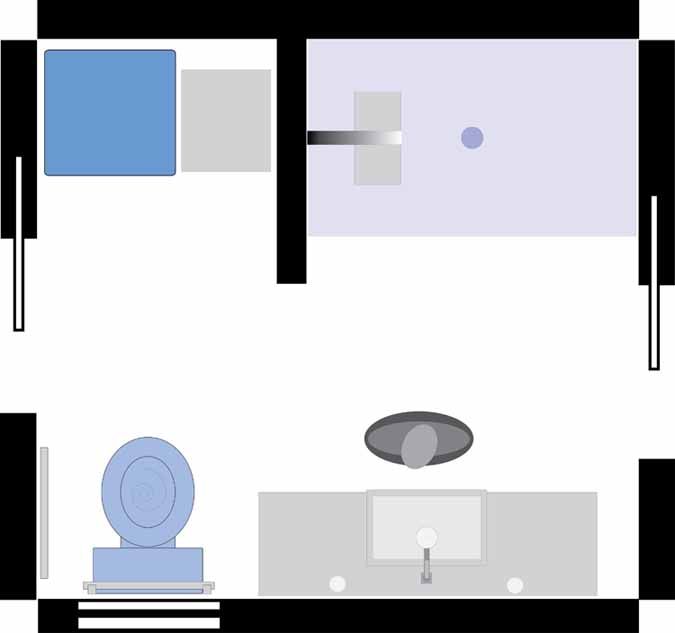 Before: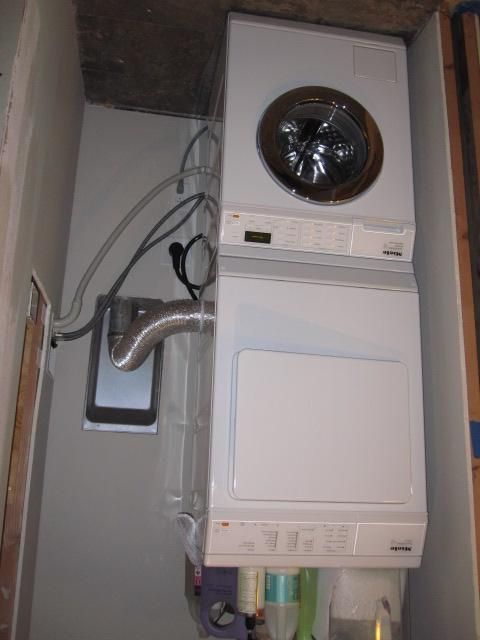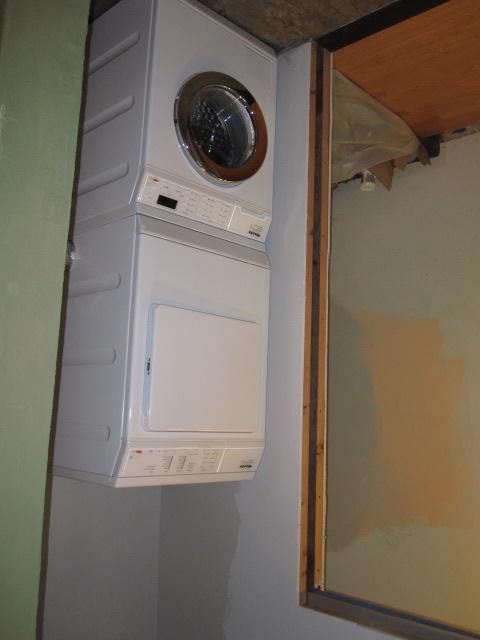 After:
Laundry basket made out of felt will go here. A scale will fit under the recessed toe kick.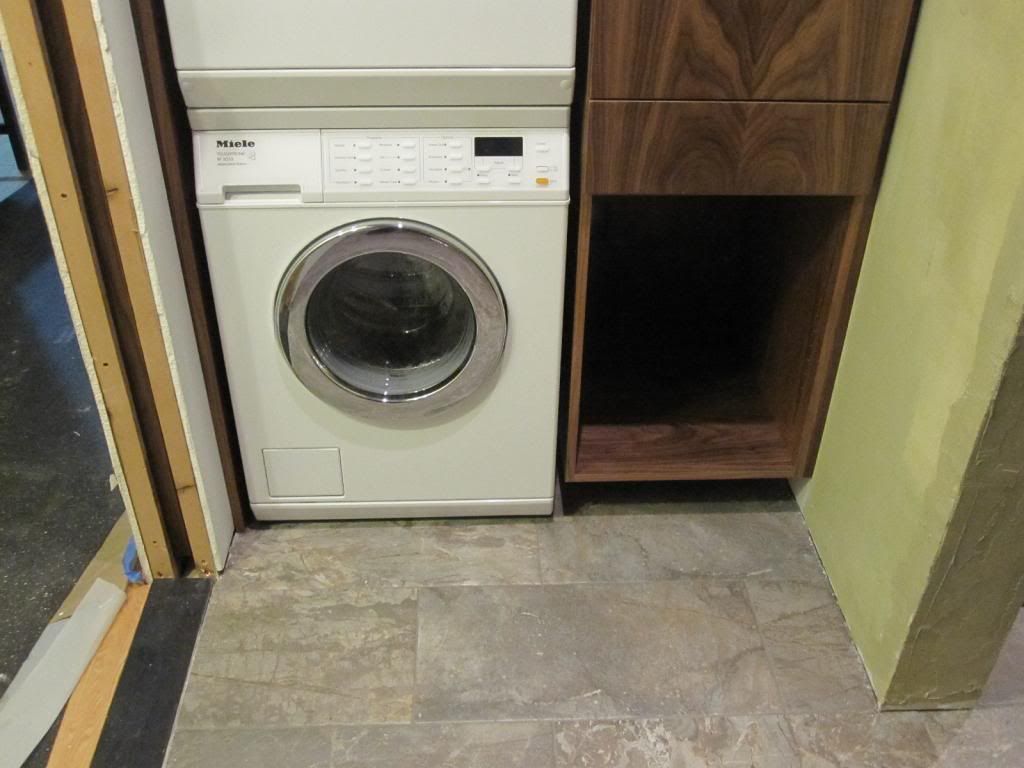 I see a crazy kitty!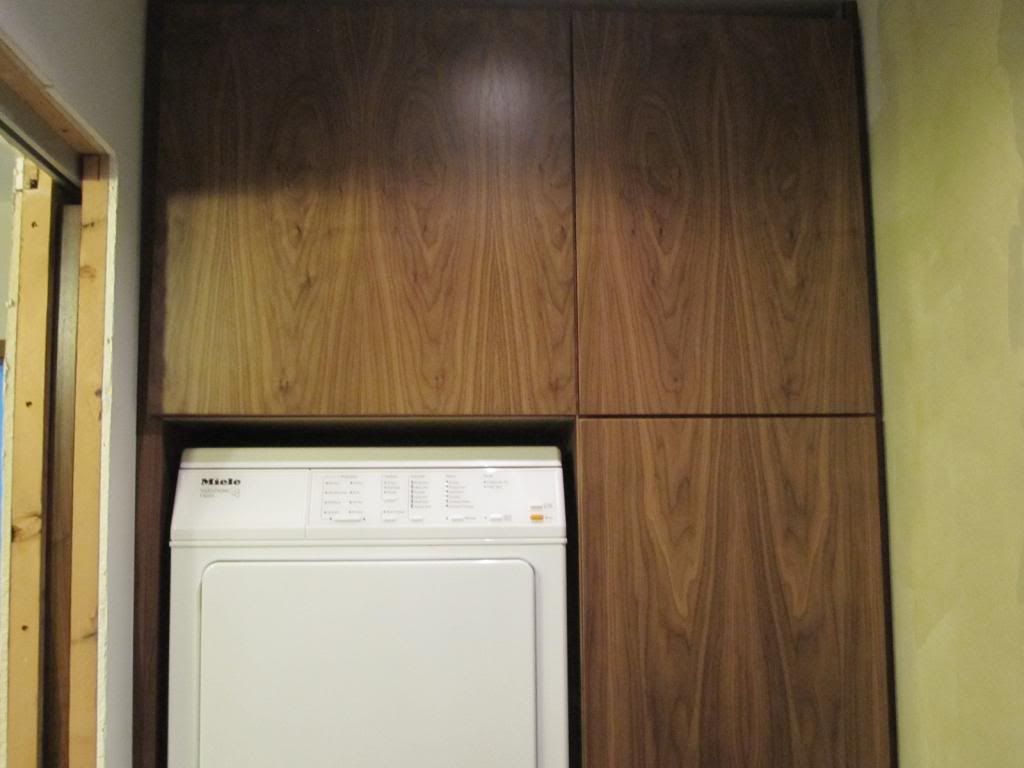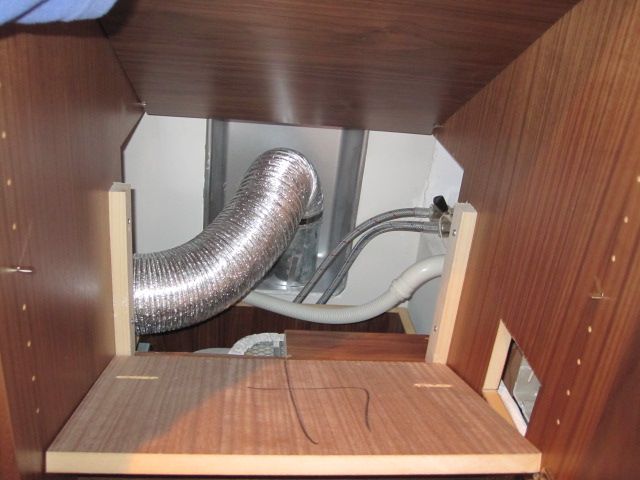 I'll besure to have the door open when I iron so I can access the inside of the cabinet. My iron will go in there. My soaps on the second shelf. If I put a pull out in that middle area it will have to be mounted to the sides.

Needing to complete:
1) Door jambs need finishing, door hardware, detail the maintenance access.
2) Toe kick veneer needs placed.
3) Electrical outlets, heated floor connected, sconces, 4) LED in toe kick area, and inside doored cabinets, and inside medicine cabinets.
5) Counter placed.
6) Plumbing fixtures installed (TOILET).
7) case work about the room.
8) Medicine cabinet made out of walnut.
9) Hardware for cabinet doors and drawers to be selected.
10) TILE & CAULK (me)
I am so please with it so far. There were issues but I didn't change out the mistakes. I thought the work looked very good to this point; don't press my luck with style errors that were made. Such as all the horizontal grain I wanted on the cabinets were vertical :0 But I decided to stay with it because my entry doors had vertical panels in the paneled areas. I didn't expect that either, but it was clearly pictured on a pamphlet that I ordered from. Unfortunately the sample picture of the passage door was of cherry and I didn't notice the grain direction. But when I saw those doors this summer (yes it has been that long!) I about fainted. All the old paneled doors I've seen have horizontal grain so I was assuming the same would be true of these new doors. But they are beautiful anyway.
will have 4" baseboard on the wall, 3" vertical case work at the pocket doors, and 4" horizontal rail at the top. My design, I hope it looks ok :/
I'll link the post I just made on the bathroom forum that also shows my vanity and the shower area.
Here is a link that might be useful: Sneak Peak Vanity and Laundry Cabinets