How would YOU layout this kitchen?
Hi there! I'm new here, but I'm already getting so much help from reading old posts -thank you!
I'm currently working on a layout plan of kitchen in the new "forever" acreage home we're building this summer, and could really use some help. We're a family of 4, with two young kids. We both cook, sometimes together (and sometimes with "help"), although usually nothing fancy (we're just too busy). Baking is usually limited to kids' bake-sales and Christmas. We have frequent guests, and like to (informally) entertain. I'm a coffee/cappuccino drinker, but only on the weekends when we're home, and I should also admit that although I try to keep the kitchen clean and uncluttered, I often fail miserably...
Kitchen preferences:
-Walk-in pantry with extra freezer and storage for small appliances would be handy
-DH "requires" the dual sink under the bay window (with herb garden), centered on the outside wall
-Island, with area for kids to eat breakfast/do homework or guests to visit
-Dedicated trash/recycling/compost cabinet/drawer(s)
-Single range, or alternatively a separate (convection) cooktop with wall oven (a second range will be located in guest suite for whenever we need an extra oven)
-Good ventilation (how would that work with a separate unit?)
We started with this house plan: http://www.drummondhouseplans.com/house-plan-detail/info/1001652.html, but have made several modifications, most importantly increasing the width of the kitchen (and master br) to incorporate two br's upstairs. We have also swapped out the laundry room with a larger mudroom; sacrificing my large closet and half-bath in the hallway for a laundry room by the bathroom. We're also considering to add a deck with a door from the kitchen for easy access to the BBQ.
This is the area we have to work with (we have already moved the walls once, and would prefer to leave them as-is due to roof pitch). Feel free to add windows though :) What would you do here?
Kitchen dimensions: left wall is 8'; bottom wall is 18' 8"; and right wall is 9'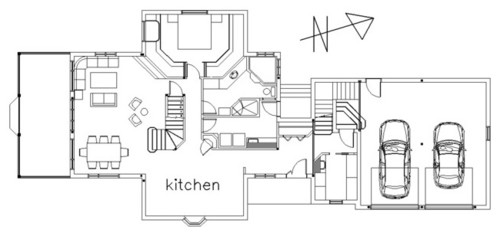 Here is a link that might be useful: original house plan