Speed Queen AWN 542 Cycles in detail
SQAWN542
November 23, 2013
AWN542 Extra Cycle Features
The AWN542 has a fabric selector switch that separates control of the agitation
and spin selection speeds from the timer. This option gives the user more
control over the wash cycle when compared to other models. All other models
incorporate the agitation and spin operations into the cycle selection timer.
A KNITS or DELICATE fabric selection with a REGULAR or PERMANENT
PRESS cycle selection delivers a constant slow agitation coupled with selectable
fast or slow extraction spin. None of the other models operate with the constant
slow agitation feature in a complete cycle. The AWN542 continues to
incorporate traditional Delicate and Hand Wash cycles that utilize intermittent
slow agitation, extended soaks, and slow speed spins to perform a gentle wash.
Another unique option is the ability in the SOAK cycle to use a fast or slow
agitation and spin extraction.
See the chart below for a detailed breakdown of agitation and spin speed
selections.
CYCLE SELECTION TIMER
FABRIC
SELECTOR Regular Perm Press Delicate Hand Wash Soak
Regular F/F/F F/S/F S/S/S* S/S/S* F/F
Perm Press F/S/S F/S/S S/S/S* S/S/S* F/S
Knits S/F/F** S/S/F** S/S/S* S/S/S* S/F
Delicate S/S/S** S/S/S** S/S/S* S/S/S* S/S
Soak cycle agitates for 3
min at beginning of
cycle then soaks for 12
min then spins for 3 min
Agitation/Spin & Spray/Final Spin
Fast (F) = 68 strokes per min or 710 RPM spin
Slow (S) = 47 strokes per min or 474 RPM spin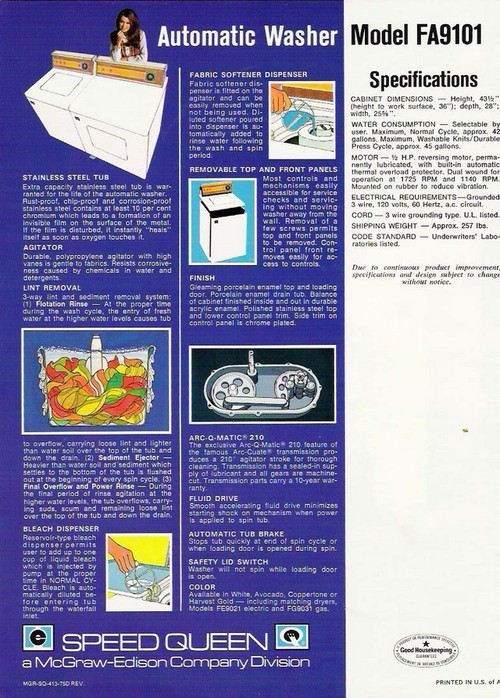 Here is a link that might be useful: Speed Queen washing