Need track/pendant lighting over huge island, suggestions? PICS
I have a flat kitchen island that measures 4 feet by 9 feet. The sink is in the island. We use the countertop on either side of the sink for food prep. The other side of the island is a breakfast bar with 3 barstools, where we eat breakfast and dinner.
I have shopped exhaustively for a light fixture to go over this island and have not found one that I love. They are either too small or not bright enough or the wrong style for my house. I keep coming back to the idea of track lighting with multiple pendants shining light on the breakfast bar side of the island and the sink/workspace side of the island. I want alot of light here - the intensity and quality of task lighting, really. We would like to put a dimmer on the light so that we can turn it up when prepping food or reading a magazine on the counter and turn it down when we don't need as much light.
I've seen examples of track pendants that have a curved rail on the ceiling and some with straight tracks/rails. Most of them are more contemporary in appearance than I need.
Does anyone have any suggestions of lights to consider or photos that could provide inspiration?
For your reference, I have included photos of my kitchen. You will notice some track pendants above the island - they are a disaster. They are from Pottery Barn and broke as they were being installed and don't give off enough light. That is the fixture I'm trying to replace.
My kitchen table light fixture: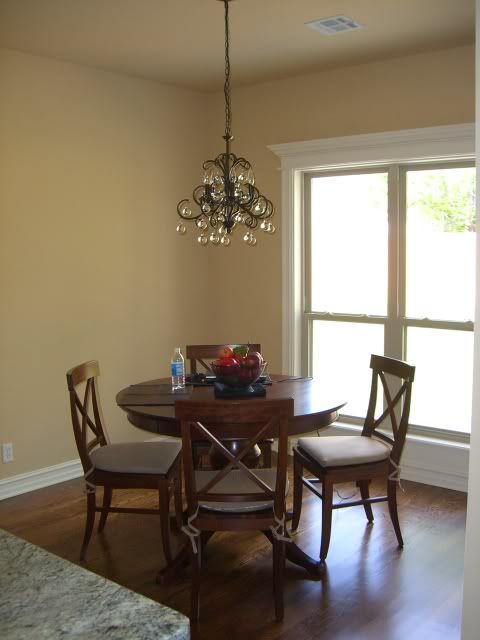 Thank you!
Try_Hard