KAW! Chicken and dumplings in the crock pot!
williamsem
January 14, 2014
Ok, I was a little eager to try it and almost didnt get pics. So they are a little fuzzy.
BUT, it came out fantastic AND I didn't use canned Cream of Anything, so I wanted to share. Our new work schedule has one of us closing the store 3-4 nights a week, so we have decided to aim for one crock pot dinner a week. We were averaging once a month or less, so this will be an interesting experiment as neither of us has much experience with these.
Anyway, gratuitous kitchen shot illustrating how well the hood deals with the escaping steam...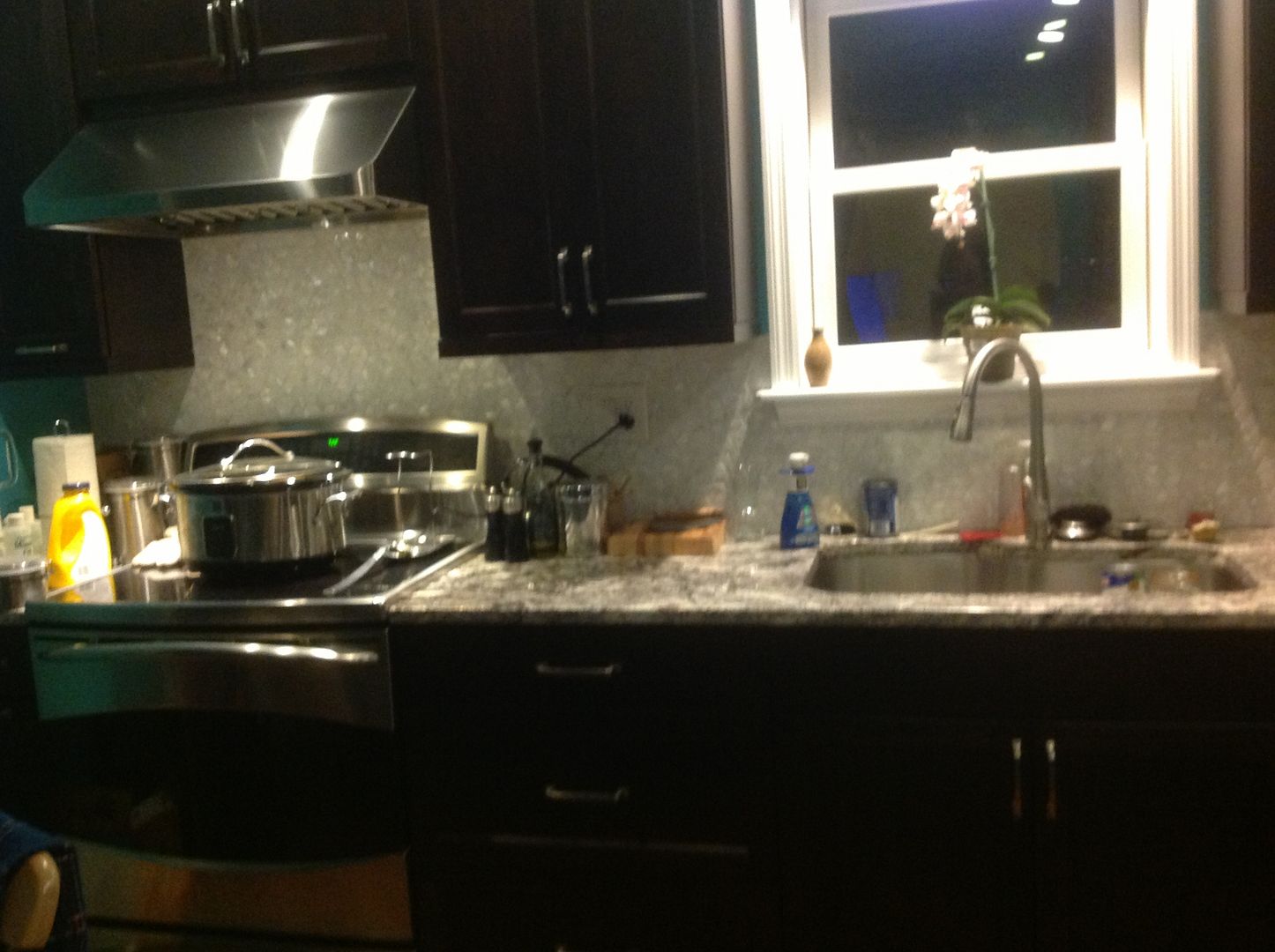 And the yummy results...

I merged a few recipes I found online, and added the carrots and celery, and this is what I ended up with:
4 boneless skinless chicken breast halves (these are what most of us call "breasts", though technically each whole piece is half a full breast)
1 onion, minced
3-6 carrots depending on size and your preference, cut in quarters, depending on size
3 celery stalks, or to taste, cut in thirds, then halved
8 tbsp butter, divided (6+2)
2 tbsp flour
1+2/3 cup milk, divided (1+2/3)
1 can chicken or vegetable broth
2+1/4 cup Bisquick
Salt and pepper
Melt 6 tbsp butter in a saucepan. Stir in the flour until smooth, then add 1 cup milk and 1 cup broth. Season to taste with salt and pepper. Heat to bubbling while stirring, until thickened. This replaces 2 cans Cream of Whatever.
Spread some onions, celery, and carrots on bottom of crock. Add chicken in a single layer. Add remaining vegetables. Pour thickened sauce on top, add 2 tbsp butter. Add remaining broth and enough water to cover. Cook on high at least 6 hours. I did almost 9 total because I'm too lazy to change the settings and it was fine.
During last 40 minutes or so, add dumplings. Mix Bisquick and 2/3 cup milk (or as directed on box if using another brand). Stir chicken/veggies. Drop biscuit mix on top, about 8 dumplings spaced evenly. Poke each one under surface to "dip" in the broth. Cover and cook on high until biscuits are done, about 30-40 minutes.
------------------------
We use unsalted butter, and I did not add any salt outside what was in our canned veggie broth. It wasn't overly bland, but I do think next time I'd add some salt or buy salted butter to try. I did add quite a bit of fresh ground pepper to the sauce though, we love fresh pepper!