recessed lighting kitchen plan 411!
ejspeedy
September 15, 2009
hi..
we're in the midst of finalizing our kitchen lighting plan and would love to get any feedback on whether people think our plan looks reasonable.
our main concerns:
(1) whether or not to keep the recessed lighting centered across the traffic paths (see below) or whether to move them closer to the upper cabinets - we want the room evenly lit but we also don't want to cast odd shadows
(2) do we have enough lighting fixtures? does the spacing seem adequate? it's roughly 4' on center between each light. we also think it's important to keep the plan evenly spaced (see other image below).
(3) are the recessed lights too close to the proposed chandelier (which will be centered above the kitchen table)?
key points:
- ceiling height is roughly 8.5'.
- we're planning on 3" LV white/white recessed lights
- we're planning on off-white cabinetry (24" lower cabs/12" upper cabs with either black or white countertops.
- we plan on some form of task lighting under the cabinets
- we plan on (3) pendants above the island
- room is roughly 15x19
kitchen layout: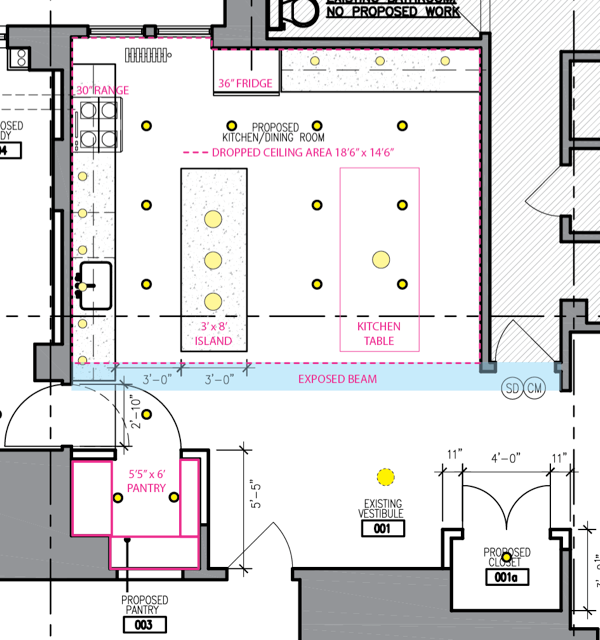 ceiling plan (to get a sense of the layout):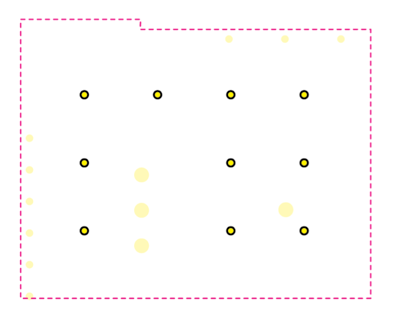 also, we live in nyc and visited a number of lighting places in the bowery and came across a recessed lighting manufacturer called "Elite" - they seem to be out of california but can find VERY little on them. they are very reasonably priced but it seems to good too be true. anyone have any experience with them?
here's a link to the spec we're interested in: http://www.iuseelite.com/pdf/BL3_Baffle.pdf
any advice, thoughts, or comments would be very appreciated!
thanks!
ej