Please help with placement of recessed cans Kitchen...
we're finally getting rid of the light box and since we have to paint the ceiling anyway...we've decided to do pendants above island and recessed around perimiter. I asked over in kitchens where I hang out and was directed here.
Here are pics. We live in the woods so it's darker than normal.
Thanks.
Planning schoolhouse pendants. Do you think 3 or 4 pendants? Island is 84" x 35"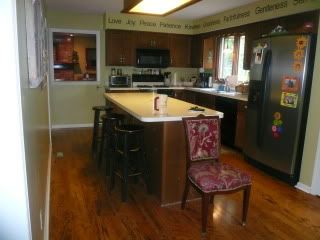 Thanks so much!
Trish