Let's Hear Your Best Organizing Solutions!
lynninnewmexico
January 7, 2014
January is always the month we seem to get the bug to reorganize things in our homes
. Probably because packing away all the Christmas decs/clutter inspires us. I know it does me. As much as I seriously love to organize and am pretty darn good at it, what I love even more is discovering new and better ways to organize.
Soooooo, what are your favorite organizing ideas? For your kitchen
, your holiday decs, your closets, your pantry, your laundry room
, your purse . . . whatever. Share them here and maybe we can all pick up a few new ideas. And, yes, I realize that there is an Organizing Forum here on GW, but this is where we hang out and we know each other here.
If you could list them each separately, it would make them easier for everyone to read through and come back to find their favorites.
Lynn
Here's just a few
*Patty Cakes mentioned this one yesterday on the linen closet forum: Instead of trying to fold comforters for storage, roll them and then tie them with pretty ribbon. They take up less space this way . . . and for me personally, they allow my cabinet doors to close all the way finally!
* I have a freezer, fridge and shelves for extra food, cleaning and laundry supplies in our attached garage. To keep me from forgetting that I have an extra of something stored already in one of these places, I put a colored sticker dot on the one already in use (milk, peanut butter, dish and laundry detergent, cans of whatever, etc.). as I unpack my groceries and put things away. Now, when something is about used up, we all know whether there's another in the garage or pantry or whether we need to put it on the shopping list. I came up with this solution after ending up with 3 large bottles of balsamic vinegar once. I still have two of them in waiting!
* I've created my own shopping lists for groceries, Trader Joes and Costco on my computer
and keep a print out of each, along with a pencil, in a designated spot in our kitchen. This way, my DH, DD and I can list or check off things as we run out of something. All of the lists are designed to flow in the order that I shop through each store., which helps me get done a lot quicker.
* Fold each set of sheets and store them in one of their pillow cases. Keeps them neat, together and easy to identify.
* I buy small notepads, mechanical pencils and small (but not grade schooler) scissors when they go on sale right before the new school year starts and are only $.50 - $1.00 each. I put one of each in drawers and cabs all over the house to use as needed. Having a small pair of scissors right there where I fold clothes, sort laundry or whatever comes in so handy to quickly trim threads, cut off tags on newly purchased clothing, etc., I use the notepads to write myself quick reminders, leave notes for my family or whatever .
* I used small, clear Command hooks on the inside of a cabinet door in our bathroom
to hold my necklaces tangle-free and easy to see.
* I've hung my rubber potholders and microwave pan covers inside the cabinet doors next to my stove and wall ovens, right there when I need them fast.
* I've also used larger Command hooks to hold my 2 favorite chopping boards on the inside of the cabinet door there where I usually prep all my food.
* to keep my dish towel handy, but not hanging wet over my kitchen cabinet doors, I bought a new pottery piece at my local nursery and use it to hold my towel. It dries pretty quickly this way, too. This could work with any number of pottery pieces that work with your own kitchen décor.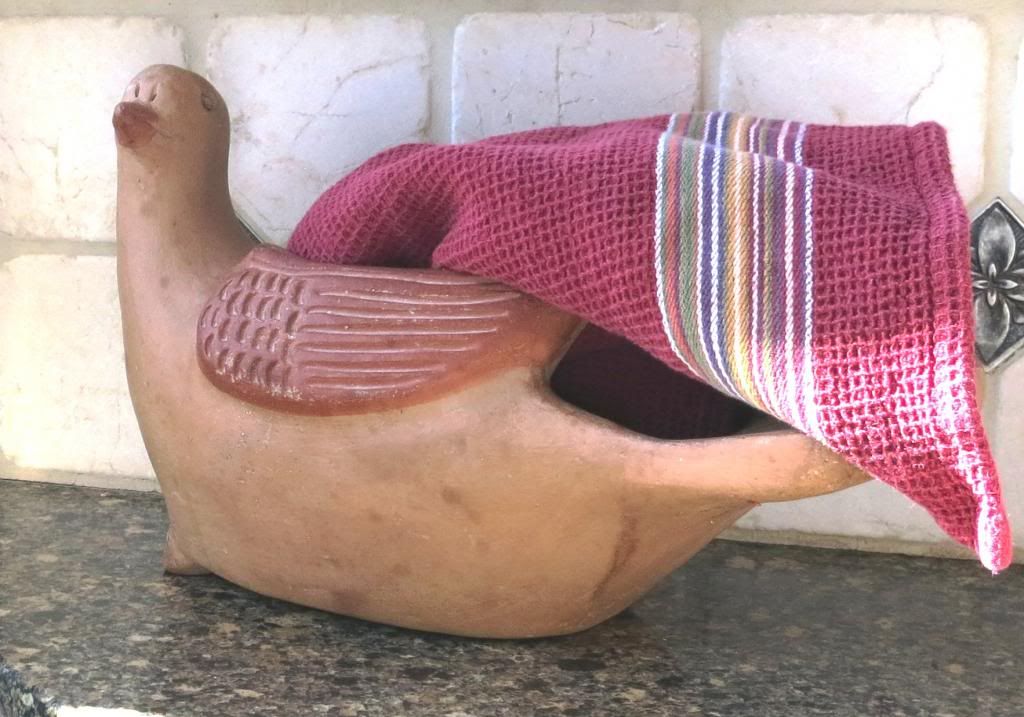 I keep clear, inexpensive plastic shoe boxes in my broom closet to hold tape, extension cords, fire starters to use in our fireplaces, various glues, dog treats, etc. I love that everything is clearly labeled with matching labels, separated, neatly organized and easily accessible .
Well, that's just a start of mine. How about you? What organizing tips can you share with us??
Lynn
This post was edited by lynninnewmexico on Tue, Jan 7, 14 at 22:30