Tweaking placement of recessed LED lights - please help! [pics]
So it looks like we will be going with the Cree LR6 recessed lights (shown as purple dots on diagrams below). In addition, we will have undercabinet lighting and two pendant lights (shown as yellow dots). (There will probably be a header dividing the kitchen from the adjacent dining area, so that's why the pendant lights are slightly over on the kitchen sink side rather than being centered).
I just have a couple of placement details that I'm hoping to get some advice on. Scale: 1 square = 1 foot.
Here is Version 1 ...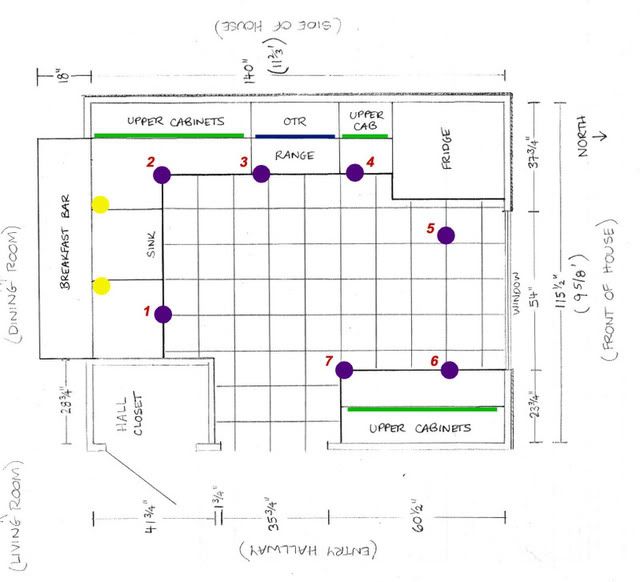 The only thing is that lights #2,3,4 don't line up over the cabinetry and range - does this matter?
Here's an elevation pic to show what I mean ...
Elevation 1 -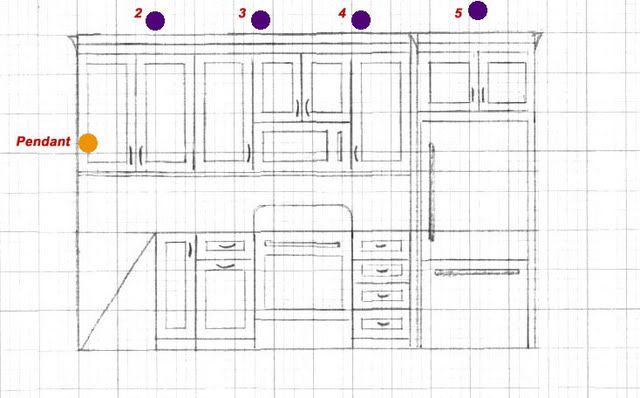 So in version 2 below, these 3 cans are more lined up with the cabinets. But then I'm worried that I will end up with dark shadows on the floor in front of the sink, and doubling up of light on the countertop (from the pendants).
Version 2 Elevation
Version 2 plan -
So to me the overhead on version 1 seems better, but the elevation of version 2 seems better. Which is more important?
Meanwhile on the other side of the room, I can either place cans #6 & 7 as in the first two versions, with can 7 on the corner. Or I can move them like this ...
Can 7 -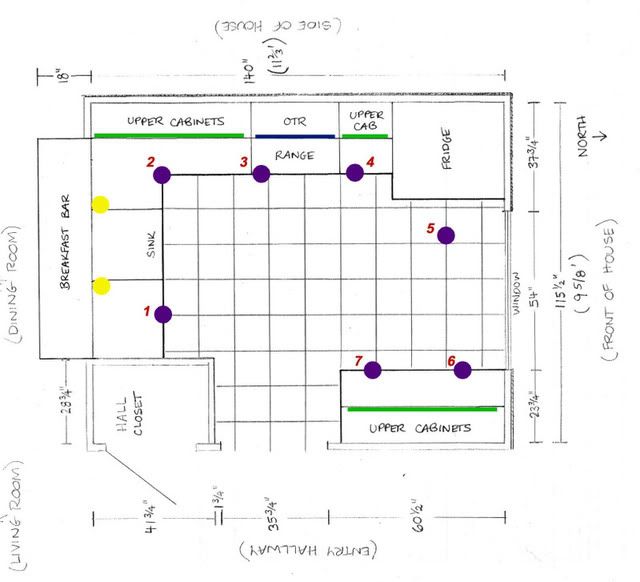 I could potentially also add an 8th can at the entryway, but not sure if this is nescessary ...
Can 8 -
Any advice would be greatly appreciated! We're really hoping to get this finalized asap ...
TIA!