Stumped on how to light half of my kitchen
We're about to start on our kitchen remodel. We're combining our old kitchen with what was an eat-in/breakfast area and making it all one big family cooking space.
This has lead to a challenge on the lighting front. Lighting the "old kitchen" half is no problem as it has flat, 8 ft ceilings. We'll be doing 9 recessed lights there.
The old eat-in area, however, has a sloped ceiling (high of 10 ft, sloping down to 7 ft where it meets an outside wall). A large portion of that ceiling is glass skylights/atrium style windows. To complicate even further, the other side of that ceiling is shingled roof, so I'd rather not put in recessed lights there and give up any insulation. It gets a little chilly in there as it is due to all the glass.
Thoughts I've had:
- Some sort of track/rail lighting system
- Large pendant light(s)? Maybe some drum pendants?
Since the idea is that this will be one big space, I'd like to keep the lighting as even as possible across the two halves.
Any ideas?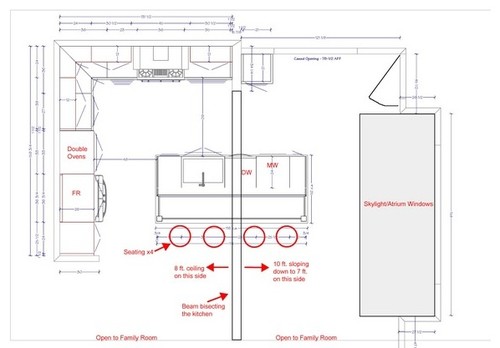 Here is a link that might be useful: Bigger diagram