Deciding between 4"/5"/6" recessed LED
I've read THE Kitchen recessed lighting thread in its entirety a few times. I appreciate all the info that's there. However, it's difficult because there's so much old info and talk of updated bulbs. It's really difficult to parse and get what's applicable to me. Now. I'm in California.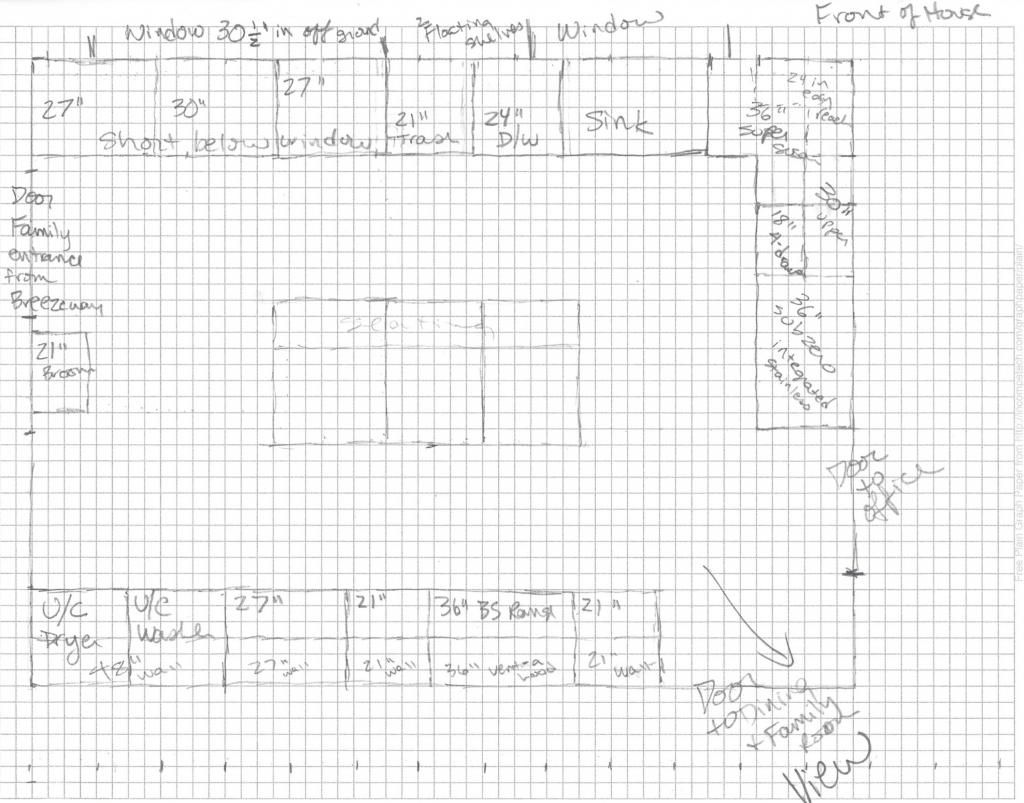 This is not the final floorplan, but it's what I could find on my computer at this late hour. I don't think any of the changes would affect lighting. The two I spot offhand is that the island will be longer and thinner by a bit and the range changed from 36" to 30". Each square =4".
The ceiling is 8ft. The room is about 13' x 17' and the island is 30" x about 76-79". There will be three pendants over the island. I think they'll get some type of incandescent bulb. That's something I haven't figured out either. There will be some kind of UCL. Yet more questions.
But in this thread, I'll ask about the recessed lights. I need to get stuff at HD for GC to install it, but I have time to order other 'kits' if necessary. I'm assuming if I am the one to plug it into the little hole, it should be okay. GC suggested 6" because he says I'd need less of them than I'd need of 4". He gave me some calculation using the w per sq ft, but when I try to work it out, I'd need more than the 6 cans he said I should get. I see that 4" are more expensive AND I know there'd be more labor in installing more cans, but this is our forever house, so it's a nominal cost.
When I use the calculation on THE thread here, my 220 sq ft I get 6850 lumens. I think I subtract out the island. If I subtract out 2050, which seems as good a random guess as any for the island, that give me 4800. Which would be 7 @ 685 lumens, 8 @ 600 lumens or 9 @ 533 lumens.
Alternatively, if I look at an odd number to have a balanced number down both sides of the island and one over the sink:
4"CE 3000k, 561l *9=5049l
5"CE 3000k, 623l*7=4361
*9=5607
6"CE 3000k, 695l*7=4865
I think I'd want a small one over the sink regardless.
I am way overthinking this, I know. But I also know I'm at the beat-down-by-the-reno stage and I don't want to blindly accept what the GC says because most people want the cheapest way and he wants the easiest way. Help!?!