Backlighting a mirror
We are going to be renovating our bathrooms. Our guest bath is small, approximately 5 x 11 feet. I am planning on recessed lights, as well as a exhaust fan with a light.
My husband travels and has seen mirrors that are backlit. I found this backlit mirror on Houzz.com and am trying to replicate it. It appears to use flourescent lights -- I would like to consider LED's to wrap completely around the mirrors, be able to dim them and keep the room from getting hot.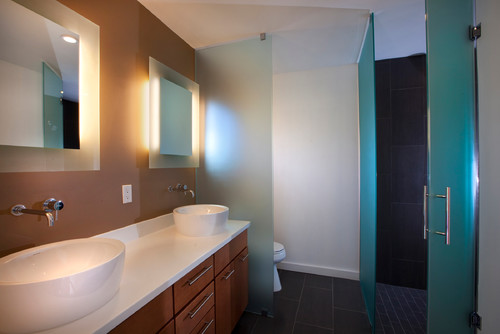 Modern Bathroom by Phoenix Architect Spry Architecture
However, I only want to do this if the lights would be bright enough to replace the sconces by the mirrors. The area of the mirrors to be outlined will be approximately 17 x 30 inches. I have spoken with some online LED companies, and have been advised that with 80 lumens/ft, I would be able to rely on these for enough mirror light without having to have additional sconces.
Can anyone with actual LED for task lighting give me feedback -- can this footage provide me enough lighting in the BR?
Thanks