Lighting layout advice needed for new build.
Hello,
Looking for some help determining how many lights we need and where they should be placed. Ceiling height is 9' throughout.
Here is what we are currently looking at for a layout: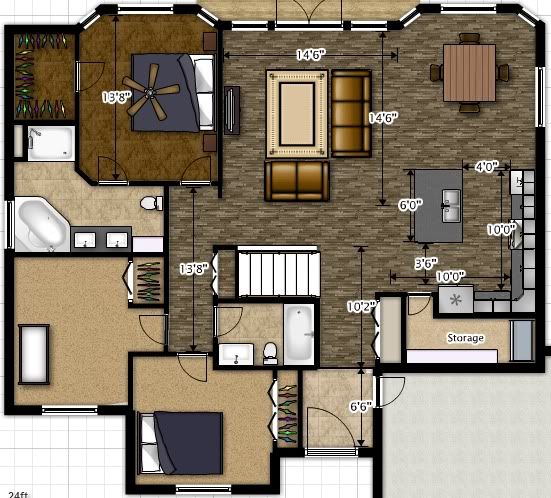 Currently this is what we are planning for lighting, but we are open to suggestions:
Master bedroom: Thinking of going with a ceiling fan with lights for general lighting. Can always have bedside lighting as well.
Walk-in closet: small dome light
MBR: vanity lighting plus I'm assuming we should do a flush or semi flush light somewhere by the tub.
Bedroom #2 and #3: Flush mount light.
Hallway: Is one flush or semi-flush light enough to provide general lighting for that area? Doing recessed lights in the main area but it would be a lot more cost effective to do one light fixture in the hallway instead of multiple pots. Also, you wouldn't really see it until you went down the hallway.
Main bath: vanity lighting
Entrance: Semi-flush. Will we need to do one light over the tiled area and then another somewhere by the closet?
Pantry: basic dome light on a door switch.
Dining area: Chandelier. Any recommendations on nice looking affordable chandeliers? Would be looking for a single level, probably 5-6 light, unit in something like brushed nickel color. Looking for something fairly simple in design...nice clean lines. Been looking at some Kichler products but not sure if there are other brand we should consider that might be lower cost? Or should we expect to pay somewhere in the $400-$500 range?
Ok, now on to the areas with recessed lighting and where we need the most help.
Kitchen: Not completely set on design yet, but keep in mind we may go with dark cabs. Plan to put two or three pendants above island. Suggestions on how many pots are needed and where to place them would be appreciated. Was thinking of using 5" pots. Do we just need to go around the perimeter?
Living area: Was wondering if we could get away with 4 pots over the seating area in a 6' grid, and then another couple evenly spaced over towards the stairs (to basement)? The 4 would be on a separate switch from the other two. How far away from the walls can we start the pots?
Hate to say it, but we are trying to get away with as few pots as possible. Since this is an insulated ceiling the cost adds up. Definitely don't want to be under-lit or have things look incorrect, though.
Other then the kitchen, none of the other areas would be considered work areas, so they don't need to be really bright.
Thanks in advance for your suggestions.