Lighting plan help needed please
X post from kitchen forum...
Finally... ready to ask for some opinions. It feels good to be this far along. This is a renovatin to a new home - we got it a couple of days ago, and demolition starts next week!
The run of cabinets along the window wall is 12'. The "t" shaped rows of cans are 5' apart. Window is 5'. Hope that helps.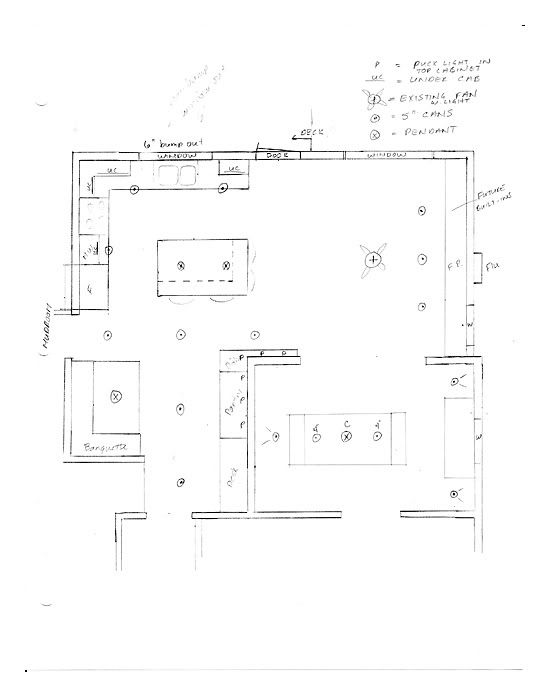 Ceiling is 7'10"
My questions... although of course I'd like opinions on anything, I'll even take them on layout :)
Is a 5' spacing on the 5" cans too much? It works out so well...
Should I put one or two cans over the sink? And go for 4" or another 5"?
We have NO idea about furniture placement in the family room, so it's hard. I need something generic. We may turn the window into a window seat, we may not. We will likely do a fireplace and built-ins at the end of the room, but not now. We will be buying new furniture - probably a sectional if we don't do the window seat, but not if we do. There is an existing fan/light combo where shown, that can be moved if necessary, but I do think I'd like to keep it. Should I put in more cans, and if so where?
Dining room - I've seen several suggestions about putting pots as well as a chandelier, and like this idea. Should I put pots in each corner, or do you think the three as shown would work? As shown they will highlight art. Problem is I have a tall china cabinet which I'm not sure about placement.
I'll be back with my living room struggles later... :)
TIA!