How would you arrange this living room?
aliciaandbilly
January 20, 2014
After finally getting our wood burning fireplace inspected and repaired, DH and I are trying to figure out how to rearrange our living room to accommodate TV and fire viewing as well as conversation with guests. The only solution we've come up with thus far is mounting the TV over the fireplace, but I'm a bit hesitant to go that route for many reasons. So before the electricians come and wall mount the TV, can anyone recommend a better multi-functional layout?
Here's our living room floorplan and I've included a link below to some pictures as well. The door to the left of the fireplace is never used but all of the other doorways are used on a fairly regular basis. And while we're not in a position to replace the furniture at this moment, please don't let it limit your ideas.
Thank you all so much for your input!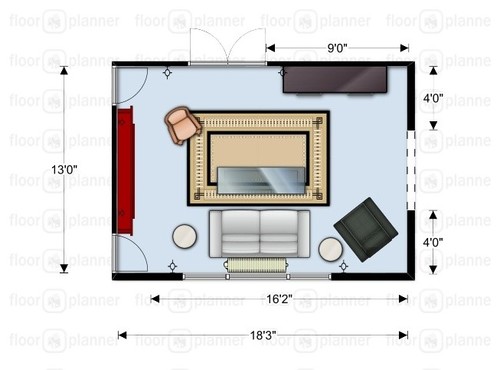 Here is a link that might be useful: Living Room Pictures