Help Appreciated-Family Room Lighting
schicksal
February 21, 2014
I'm trying to figure out lighting for our family room and am looking for help. The house was built in 1959, sort of mid century modern in style and the space between the family room and kitchen is open. In the middle of the family room there's a load bearing beam that drops down (it's the gray dashed line in the layout). Right now it's all under construction and looks like this. The ceiling is about 11 feet at the high side, 8.5 feet at the low side.
Here's the layout I drew. The left side of the room is a breakfast area and it has an 8' ceiling. What I'm trying to figure out is the other part of the room...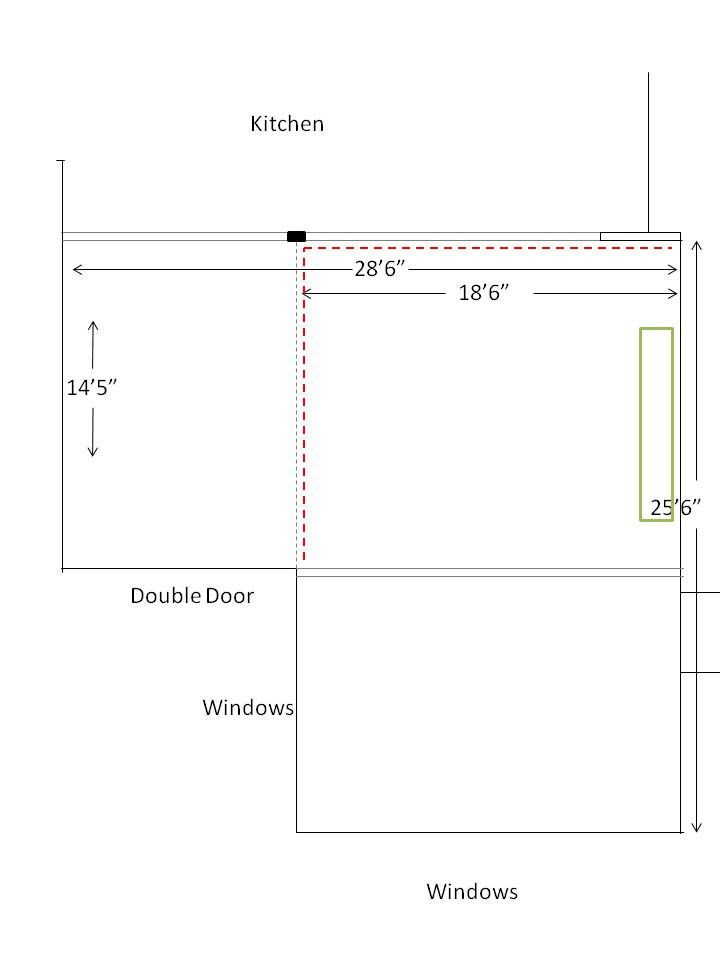 I'd like to do recessed LED lighting like we did in the kitchen but I'm not sure of the spacing and whether a special type of fixture would be needed because the ceiling has a slight angle? I also was thinking of doing cove lighting in the areas with the red dashed lines, but I'm not sure if that really makes much sense and should be left out? There are two HVAC returns on the high wall and it might do nothing but draw attention to them. The other lighting idea was in the area with the green box. I plan on having a low entertainment center built to match the cabinets in the kitchen, wall mounting the TV with stone behind it. The idea is similar to this, with lighting from up above. I'm not sure how to pull it off though.
We were planning on having a fan, but a fan only (no light kit). We're thinking paneling (more like siding) painted white as the ceiling. Advice is totally welcome - we're quite lost when it comes to family room lighting.