Need advice on Can Lighting Placement
Please offer advice as to the placement of can lighting.
Reading the forums we consistently read that cans should be placed over the outer edge of the countertops. This makes sense to us. Our electrician right off said in the middle of the isle. So we turned to a 'supposed' lighting specialist who has suggested a layout that we question. I don't have a sample pic of that layout but do have the following 2 pics of our kitchen design.
The suggestion is to start with centering a can at the coffee bar (far left corner) and kitchen door, and then from there spacing them 4' apart in all directions. This would place the cans centered to the peninsula width, but not the length. As the suggested run continues along the range wall it places the cans on either side of the range hood and in front of the range hood at approx. 30in from the wall. The countertops at this wall are 25 1/2in in depth. This places the cans neither at the counter edge nor centered to the isle.
It also places the cans on either long side of the island in the middle of the isle as well. We do plan on having a pendent/chandelier type lighting for the island, so the 4' rule was interrupted for this but the cans would be again 4' from either side of the pendant.
Our ceiling is 10' and we have approx 4' isle between the island and range wall, and 4 1/2' isle on both the long sides of the island. The island countertop is 54in wide X 96" long. There is almost 6' between the peninsula and coffee bar. The peninsula is almost 10' long. Not seen in these pictures on the coffe bar wall - just to the left of the coffee bar is a 48in french door followed by another 48in span of wall which butts up to a patio window wall. An imaginary line drawn from this patio window wall back to the edge of the refrigerator wall would capture the full area requiring lighting. We intend to have a small nook/table in the corner of the patio window wall and the wall that houses the french doors/coffee bar.
I've attached 2 pics to help with any discussion or suggestions. Any advice will be appreciated.
Kitchen with Coffee bar - left corner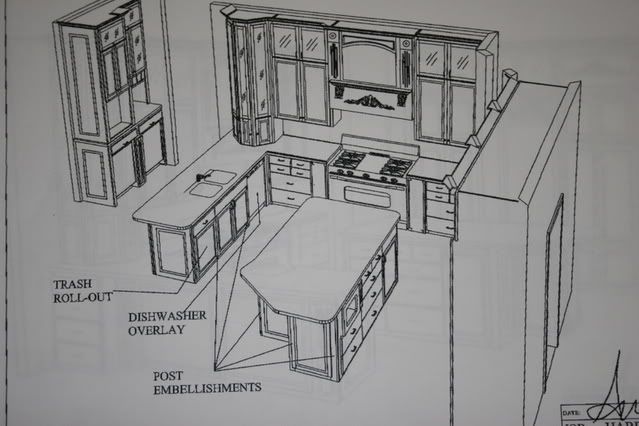 Kitchen with Refrigerator wall to the right back: