After 8 years, the final touch on our kitchen/family room remodel
cloud_swift
January 10, 2013
This isn't a nightmare remodel that took forever - 8 years ago we started on the kitchen part of our kitchen/family room with much help from this forum. Then we took a remodeling break for a few years before tackling the family room.
In 2011 we got rid of the dark huge faux rock hearth with the tiny firebox - replacing it with an EPA II fireplace that would heat efficiently and cleanly (and be allowed to burn on most no-burn days). Along with that, we put new flooring in the whole area (we hadn't done that with the kitchen remodel because we were keeping about the same foot print and it made more sense to replace it when we took out the hearth.
Before (with the mock up of the new fireplace next to the old hearth):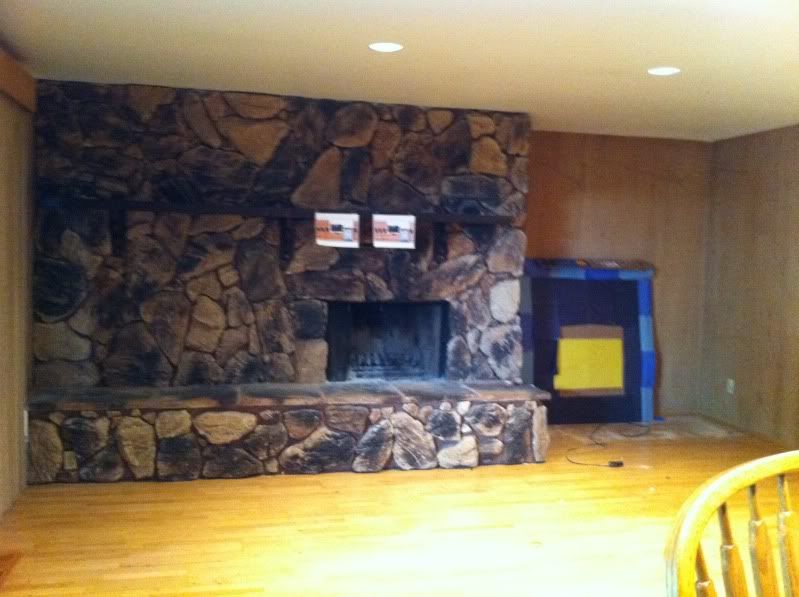 We asked for advice here including on choosing doors for the new family room cabinets that would be different from the kitchen but harmonious with it and on knob placement.
The final step was the great couch hunt as our couch was on its last legs and the chair really didn't go with the room. I think I sat in just about every couch in a showroom in the Sacramento area trying to find ones that are comfortable and go with our room. We appreciated help here on choosing color. When we ordered the seating they said it could take up to 6 months for them to arrive which would have been March. Then we got a pleasant surprise just before the new year to make a delivery appointment. The couch and chairs arrived last Thursday.
Here is the final result: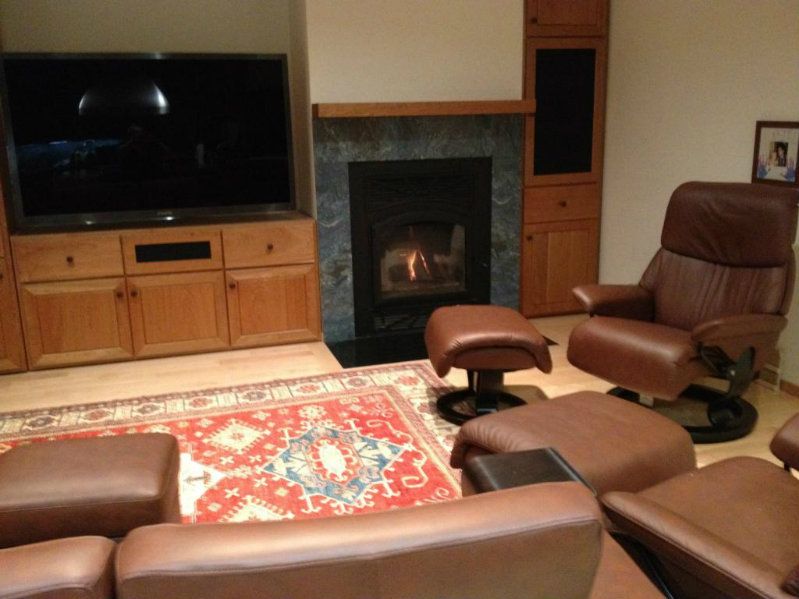 Cabinets: natural cherry custom made by a local shop, not built in, they are finished on all sides so they could be arranged differently and used separately if we moved.
Knobs: walnut from neighborhood tree trimmings turned by my DH
Floor: Lauzon pre-finished natural maple solid wood (not engineered wood)
Fireplace: Lennox Villa Vista
surround - Azul do Mar quartzite (from remnants of the kitchen slabs)
hearth - Shanxi black "granite" (probably basalt or gabbro)
Seating: Ekornes Stressless Space theater seating and Dream Recliners
Our cabinet maker suggested a unit for the AV components that has adjustable shelves mounted on a turntable so one can get to the back of them for more easy cabling.

Close up to show off the knobs my husband made - we worked a lot on the shape to get something that would be simple and very comfortable to use:

With the blinds closed:

Blinds open and showing the seating with kitchen in background (my iphone camera is confused by the light from the windows and distorts the color):

Thank you to the members of this forum for their help along the way. We are so happy with the room now.