Moving Buderus Intake Outside?
PinkFloydEffect
December 28, 2013
We made an 'investment' in this furnace a few years ago, or at least that is what we thought. Has been nothing but problems, it's not easy to find someone to service them, serving and parts are twice as expensive, and HVAC guys at home shows cringe when we say we installed a 'Blue Flame' unit. I live in New England, US. The furnace is a Logano G125 and if I remeber correctly the computer has already gone dysfunctional and remains on its manual setting.
http://i222.photobucket.com/albums/dd105/pinkfloydeffect750/IMG-20131227-00164_zpsb437b657.jpg
We have an old classic house, used to run a coal fired stove in here about 100 years ago. The Buderus was suppose to be so efficient that it no longer needed a traditional cheminee to vent because the exhaust is so cool, so we had a wedge shaped vent at ground level right where they knocked out that window and boarded it up. Problem is there is a bedroom window above the vent on the first and second floor, my window on the second floor is always open in the summer and the fumes would rise up against the house and get sucked right into my bedroom with the fan I run in the window pulling in air. It was bad some days it smelt really bad upstairs and began to make me light headed so we called the lousy installers back to now install a full length stainless vent that rises up above the roof line at our cost and so overall cost was now about $1,000 higher then first quoted. That is the pipe on the right side you see connected and lousily sealed with foam rather then mortar like used on their original vent.
http://i222.photobucket.com/albums/dd105/pinkfloydeffect750/IMG-20131227-00161_zps67836642.jpg
We stopped having the installer service it since he never wants to come out and fails to make appointments, we had another company service it not long ago and right after they left it started smelling heavily like furnace fumes in the house....they incorrectly installed a gasket. Then the night they left the second time we stopped getting heat in the middle of the night turns out they forgot to turn the oil supply back on. Only one floor of our house is heated with baseboards using the furnace the other is propane, however both floors sinks/showers are ran off the furnace.
It kicks on and off quite often but does not run long, I work in the basement and it is very annoying when listening to music so I did some investigating. From the first floor it is louder since it was recently cleaned when it turns on and I assume that is because of greater air flow they did say it was pretty dirty...if I put my hand over this white intake tube in the red circle when it is running it gets at least 50% quieter! Is there any reason I can't connect this inlet tube to the already existing wedge vent outside that is not being used anymore?? Right now it draws really dusty air from a shop environment basement but the temperature is never below freezing....if it draws outside air it will be much cleaner but can reach sometimes below -0F in the winter BUT it would be so much quieter!!
http://i222.photobucket.com/albums/dd105/pinkfloydeffect750/IMG-20131227-00162_zpsbcacf86d.jpg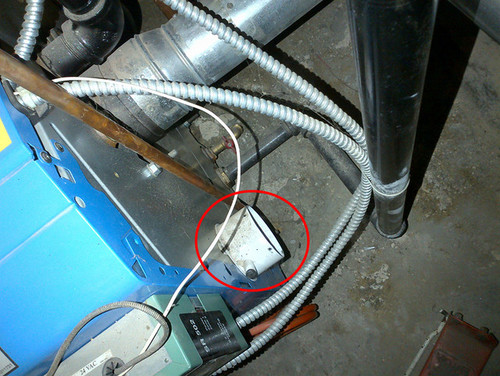 Here is a link that might be useful: Moving Buderus Intake Outside?