Looking for advice on new build: confused by the options!
olivesmom
November 19, 2012
We are planning our new build and I am feeling very overwhelmed by the different options. The house will be built on a rural, wooded lot, southeast of Seattle. We will not have access to natural gas. We do not need AC, just heat.
Originally we were looking at an open floor plan and I was very interested in a masonry heater. However, we are now looking at a much more traditional colonial floor plan and I'm not sure how well a masonry heater will work with closed off rooms. Additionally, I learned that most lenders will require another source of heat and since I don't want forced air that means another expensive heating system on top of the expensive masonry heater- I just don't think it will make sense.
I like the idea of radiant, but I am leaning towards hardwood (ideally site finsihed, wide plank) on the first floor and mostly carpet on the second. Not sure how well radiant works with those flooring types.
Building a tight shell plus taking advantage if passive solar sounds good. But will passive solar work well in our overcast climate? Plus, I want wood, not tile flooring. And then we still need an actual heat source.
We would consider geothermal and/or solar electic, and are okay with the larger upfront costs assuming either system makes sense. Since I don't want forced air (I find it lound, inefficient- it always seems too cold or too hot, and drying) that leaves just radiant, right?
We consume a lot of energy. We currently have two kids and will likely have one or two more. I am at home during the day, so various things are on. We have plasma televisions, we take long, hot showers, i like having the fireplace(s) on, we will have two dishwashers and maybe more than one set of washers/dryers, we might get a hot tub. I'm even considering an Aga cooker for the kitchen which is always on, one of the upsides though is that it will help heat our kitchen to some extent.
If solar electricity or geothermal can help keep our operating costs low I would be interested. I am just confused as to how either would tie into the heating system and hot water. Propane is an option, but I'd like to limit its use to a small additional, seldom used range in the kitchen and possibly fireplaces- if propane fireplaces even exist.
We are in our early thirties and this new house will be our forever home. We are not concerned about resale. Again, arger upfront costs are okay assuming they make sense in the long run.
Here's the floorplan we are looking at. It will be roughly 3500 sq ft, two stories, on a crawl space. We plan to make some changes to it. Most notably extending the master suite out to the side and bringing its rear wall back to the level of the living room to avoid that dark patio as currently drawn.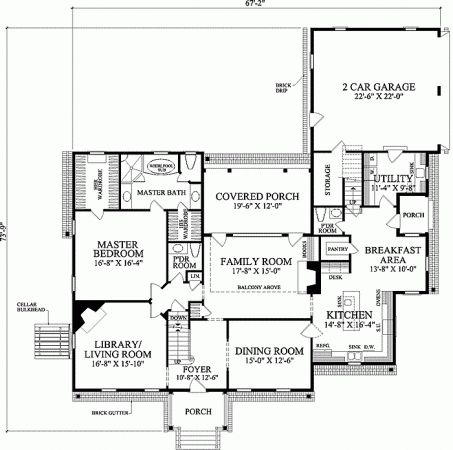 Please let me know what you would recommend for this house. I am feeling overwhelmed by the options and also limited at the same time since we do not have access to natural gas. Thanks in advance for your advice!